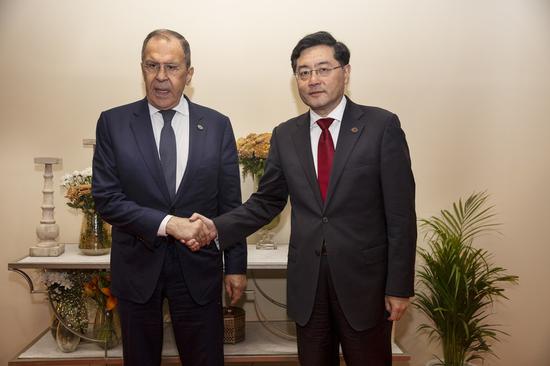 Chinese Foreign Minister Qin Gang (R) meets with his Russian counterpart Sergei Lavrov on the sidelines of the Group of 20 (G20) Foreign Ministers' Meeting in New Delhi, India, March 2, 2023. (Photo by Javed Dar/Xinhua)
Chinese Foreign Minister Qin Gang met with his Russian counterpart Sergei Lavrov on Thursday over bilateral ties and a political settlement of the Ukraine crisis on the sidelines of the Group of 20 (G20) Foreign Ministers' Meeting held in New Delhi.
Under the strategic guidance of presidents of the two countries, the China-Russia relations have maintained sound and steady development, setting a new paradigm for a new type of major-country relationship, and playing an important role in promoting solidarity and cooperation among emerging markets and developing countries, Qin said.
The two sides should maintain exchanges at all levels and step up communication and coordination between their foreign ministries, he said.
In the face of the complex and grave international situation, China stands ready to work with Russia and other members of the international community to safeguard peace, security, development and prosperity, and join hands to build a community with a shared future for mankind, the Chinese foreign minister said.
For his part, Lavrov said he is willing to work with the Chinese side to implement the consensus reached by the two heads of state, intensify high-level exchanges and plan cooperation in various fields.
Noting that both Russia and China are members of the Group of Friends in Defense of the Charter of the United Nations, Lavrov said Russia is willing to strengthen strategic communication with China to inject more stability into the international system.
Russia supports and will actively participate in the Global Development Initiative and Global Security Initiative, and will continue to strengthen coordination and cooperation between the two sides within the frameworks of the Shanghai Cooperation Organization, the BRICS and other multilateral organizations, Lavrov said.
The two sides also exchanged views on the Ukraine crisis.
Qin expounded on China's basic position, calling for joint efforts to uphold the purposes and principles of the UN Charter, support a political solution to the crisis, oppose fanning the flames and disrupting the peace talks, and object to double standards, sanctions and pressure.
China supports all efforts conducive to the peaceful settlement of the crisis and will continue to play a constructive role in this regard, he said.
Lavrov appreciated China's objective and impartial position and constructive role, saying that the Russian side is always open to negotiations and dialogue.
The two sides also signed a consultation plan for 2023 between the foreign ministries of the two countries.