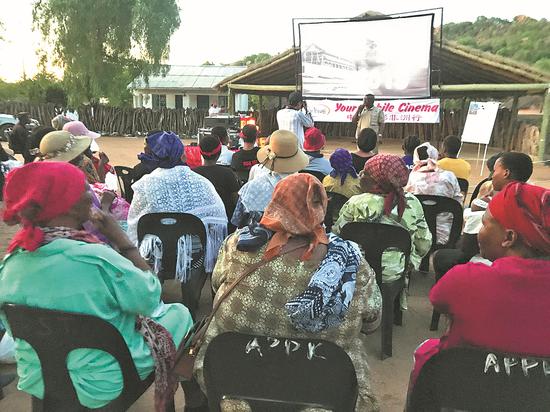 A movie is shown at a village in Botswana in 2018. (Photo/CHINA DAILY)
Villagers in countries such as Botswana, Zambia and Tanzania have watched hundreds of movies outdoors in the past three years, thanks to a project initiated by Nan Gengxu, a Chinese national who has lived in Africa for more than 20 years.
Nan, president of Global Max Media Group, which is based in Gaborone, capital of Botswana, said: "In most African countries, cinema is not widely available. Some countries have no more 10 movie theaters."
According to Nan, the project, which is called Scene Travel, aims to satisfy local residents' spiritual needs and help them learn more about the outside world by bringing movies to towns and villages.
"Kids and old people are very happy when our trucks arrive and we prepare to show films. For the kids, movies are something they have never seen before," he added.
Despite problems, such as a truck breaking down on rough roads, sudden rainstorms, power blackouts during a show, and a shortage of film sources, Nan has persisted in going ahead with the project.
"A simple scene from a movie not only brings audiences cultural enjoyment … it also lights up their minds and even their futures," he said.
While many films shown as part of the project are produced by local artists but cannot reach cinemas due to the underdeveloped film industry in Africa, some Chinese movies have also been shown on the continent.
"Locals showed great interest in the Chinese subtitles and dialogue in the movies and even wanted to learn Chinese and about Chinese culture," Nan said.
As head of a group that owns 10 platforms operating in more than eight languages in Africa, Nan is committed to using the media to promote understanding among Chinese and African people.
He said a senior African official once told him that in contrast to sometimes biased reports from some Western media outlets, Africans now have another perspective for learning about news-especially reports involving China-through media run by Chinese.
Nan said he doesn't mind being considered as a businessman who failed to make a profit from such projects.
He is still discussing cooperation with a local television station to broadcast Chinese documentaries about agriculture to African audiences.
"I'm passionate about building the media group into one that is fully accepted and recognized by local people, thus letting more and more Africans learn about Chinese culture and also promoting exchanges between China and Africa," Nan said.