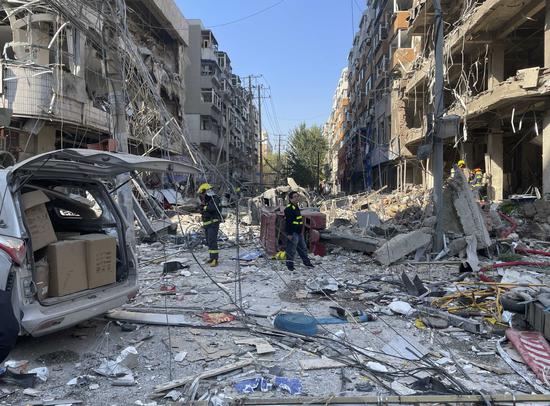 Rescuers work at the site of an explosion in Shenyang, Liaoning province, on Thursday. A gas blast at a restaurant left at least four dead. (Photo/Xinhua)
At least four people were killed and more than 40 injured after an explosion at a restaurant in Shenyang, Liaoning province, on Thursday, according to the local publicity department.
Among the injured, three were seriously hurt and 44 were slightly hurt as of 6 pm Thursday.
The explosion, which took place at around 8:20 am, shattered glass windows of many stores and residential buildings near the restaurant in Heping district, the publicity department said.
The windows of many cars parked near the restaurant also broke during the explosion. The affected stores have stopped operation and roads near the site have been blocked.
A bus loaded with passengers was passing by the restaurant when the explosion happened.
It was knocked more than 10 meters sideways, and at least 10 of the injured were passengers on the bus.
All the injured have been sent to nearby hospitals for treatment. The explosion damaged power lines and cut power to more than 15,000 nearby residents.
The Shenyang fire department dispatched 110 firefighters and 25 trucks to help rescue people. Personnel from the city's public security, emergency, health, urban construction and gas departments also arrived at the site quickly to help with rescue work. A total of 1,054 people and 307 vehicles have been sent to the site, and four rounds of searches have been launched.
"My office is 500 meters from the scene. Several days ago, I ate at that restaurant. I never imagined this could happen," said Duan Ran, who manages a medical instrument company in Shenyang.
Shenyang Gas had rebuilt the gas pipeline network in the area on Wednesday night and Thursday morning after shutting down the gas. The company started offering gas again after 7 am, about one hour before the explosion took place.
The gas company confirmed that it was a gas explosion, but said that whether the rebuilding work caused the explosion or if the restaurant was using gas tanks instead of gas provided by the company needed further investigation.
To ensure safety, the gas company started to rebuild the pipeline network in 2014, Shenyang Evening News reported. By the end of last year it had finished rebuilding 1,158 kilometers of the pipeline network.
Liu Caiquncontributed to this story.