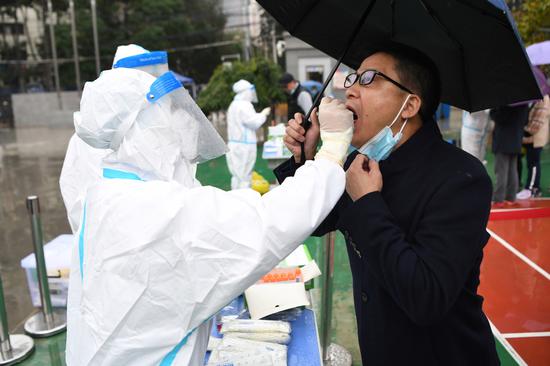 Citizens receive nucleic acid testing at a testing site in Lanzhou, Northwest China's Gansu province, Oct 19, 2021. (Photo/Xinhua)
Special: Battle Against Novel Coronavirus
Authorities are taking steps to control a recent coronavirus outbreak related to a tour group, which has spread to seven provinces and autonomous regions over the past three days.
Seventeen new locally transmitted COVID-19 cases were reported on the Chinese mainland on Tuesday, the National Health Commission said in its daily report on Wednesday.
Of the new cases, eight were reported in the Inner Mongolia autonomous region, four in Gansu province, one each in the provinces of Guizhou, Yunnan and Shaanxi and in the Ningxia Hui autonomous region and Beijing, the commission said.
Among the eight cases in Inner Mongolia, five were reported in Ejine Banner, Alxa League, affecting people who were working in the same restaurant. They were close contacts of people confirmed to be infected in Xi'an, Shaanxi province.
Ejine Banner is at the westernmost point of Inner Mongolia, 1,000 kilometers from Hohhot, the regional capital.
Chen Zhanyun, Party chief of Ejine Banner, said during an interview with China Central Television that the local government had shut down the local port of entry and tested everyone there.
It's difficult to bring experts, as well as goods and materials, to Ejine Banner because of its remote location, he said.
The four confirmed cases in Gansu were reported in Lanzhou, where two residential communities have been designated as medium-risk.
Zhang Hao, deputy head of Gansu's Health Commission, said all 1,440 residents of the two communities have been tested and 786 results so far were negative. Other results are pending.
Gansu found 504 close contacts, and the province will consider testing the whole population if needed, Zhang said.
Three other cities in Gansu are acting to curb infection. Jiayuguan has begun testing all residents. Zhangye is working to trace close contacts and Jiuquan has closed its scenic spots.