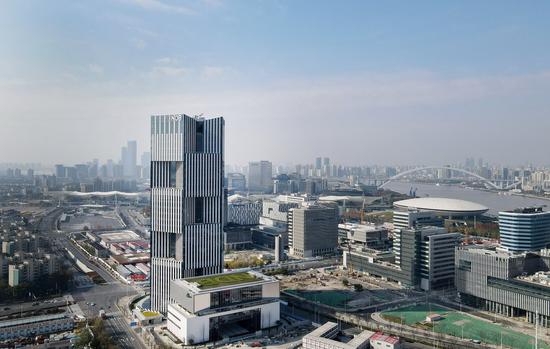 Aerial photo taken on Dec. 17, 2020 shows the headquarters building of BRICS New Development Bank (NDB) in east China's Shanghai. (Xinhua/Fang Zhe)
Bangladesh officially became the first new member country of BRICS New Development Bank (NDB), the bank's president Marcos Troyjo said on Tuesday.
"Recently we have had the admission of three new members of the New Development Bank. And Bangladesh was the first to deposit its instrumental accession. So officially, Bangladesh is now a full member of our institution," he said, after the handover and move-in ceremony of the banks' permanent headquarters building in Shanghai's Pudong New Area.
Additionally, he said this handover ceremony represents a lot in terms of its institutional development and what has been accomplished over the past six years.
"I think it's also a great opportunity for Shanghai because we are an important addition to the city's profile as a global financial center," said the president.
The bank announced that it will add the United Arab Emirates, Uruguay and Bangladesh as its newest members earlier this month.
Since the beginning of its operations, NDB has approved about 80 projects in all of its members, totaling a portfolio of 30 billion U.S. dollars. The projects cover sectors of transport, water and sanitation, clean energy, digital infrastructure, social infrastructure and urban development.
Headquartered in Shanghai, the NDB was established by Brazil, Russia, India, China, and South Africa. The bank formally opened in July 2015.