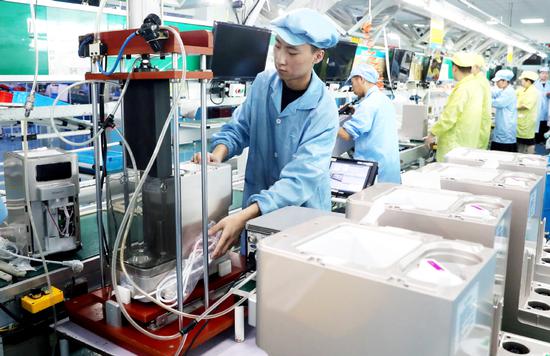 Employees work on the production line of a foreign-funded electronics manufacturer in Suzhou, Jiangsu province. (Photo: China Daily/Hua Xuegen)
The 17th meeting of the Council of the Shanghai Cooperation Organization Interbank Consortium signed the strategy for the further development of the SCO IBC for the medium term (2022-26) on Thursday, clarifying key tasks in the areas of financial cooperation, communication, coordination and development of mechanisms in the next five years.
The meeting was held in Dushanbe, the capital of Tajikistan.
"Looking ahead, the SCO IBC should further deepen cooperation and make a greater contribution to promoting regional economic prosperity and sustainable development," Zhao Huan, chairman of China Development Bank, a Beijing-based policy financial institution, said in a speech delivered via video link at the meeting.
The SCO IBC should keep expanding the areas of cooperation, strengthen cooperation in the areas such as infrastructure interconnectivity, advanced manufacturing, modern logistics, modern agriculture and high technology, and build more stable and highly efficient regional supply chains, Zhao said.
It should also support green and sustainable development projects, foster new growth drivers for the upgrade of regional energy and industrial structures, and enhance capabilities of the member states of the Shanghai Cooperation Organization to deal with climate change and to realize a transition toward an energy-saving, environment-friendly, low-carbon and resilient economy.
Besides, the SCO IBC ought to promote the application of a new generation of information technology, including big data and artificial intelligence, to the real economy, drive transformation and upgrade of the traditional manufacturing industry through technological innovation, deepen communication and cooperation with regional and international multilateral institutions, and promote further opening-up and integration of the regional economy and finance, he said.
Established in October 2005, the SCO IBC currently has eight members, including China Development Bank. As of the end of June, CDB had worked with other members and partner banks of the SCO IBC on 59 cooperation projects, granting loans totaling $10.7 billion and 18.1 billion yuan.