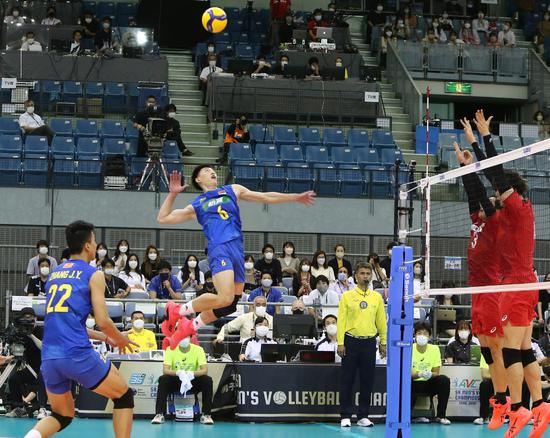 Yu Yuantai of China (second from left) is seen in action in Chiba, Japan, on Sept 16, 2021. (Photo: Xinhua)
China scored its first victory in four years over arch-rival Japan at the Asian Men's Volleyball Championship in Chiba on Thursday.
China, who entered the quarterfinals with two wins and a loss, put on a spirited performance in front of more than 2,000 local fans at the Chiba Port Arena, winning the Group E match 25-19, 27-29, 25-21, 25-19 after one hour and 52 minutes.
Yu Yuantai was China's top scorer with 17 points, while Li Yongzhen and Zhang Jingyin each made 16 points and captain Jiang Chuan added 14. Japan's Ishikawa Yuki scored a game-high 19 points.
China, who finished sixth at last two Asian Championship in 2017 and 2019, lost all previous four meetings with nine-time Asian champion Japan. Their last victory came in a World League match in 2018.
"Everybody feels that we need to show something in this match after a narrow loss to Australia," said a jubilant Jiang Chuan, who is playing his third Asian Championship. "I'm very happy that we won the match. We played very well."
China will next take on Qatar, and a win will earn it a semifinal berth. Qatar shocked Australia 3-0 earlier on Thursday.