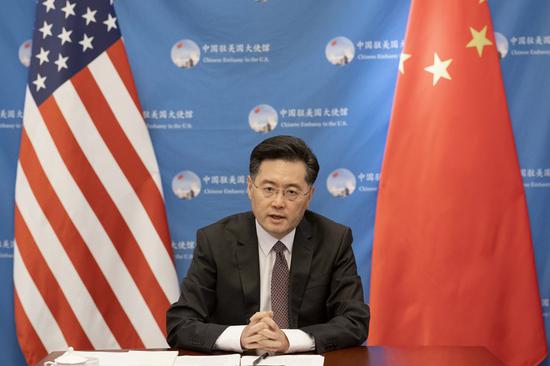 Chinese Ambassador to the United States Qin Gang attends a virtual meeting with board members of the U.S.-China Business Council (USCBC) in Washington D.C. on Sept. 13, 2021. (Xinhua/Liu Jie)
Chinese Ambassador to the United States Qin Gang on Monday urged Washington to "make earnest efforts" to improve bilateral ties, stressing the role of economic and trade cooperation as the "ballast and propeller" of China-U.S. relations.
"If we compare China-U.S. relations to a giant ship, then economic and trade cooperation has been its ballast and propeller. When the ship sails against heavy winds and huge waves, we need to add more strength to the ballast and propeller," Qin said during a virtual meeting with board members of the U.S.-China Business Council (USCBC), a trade group representing more than 200 American companies that do business with China.
Citing the latest survey of USCBC, Qin noted that uncertainties caused by difficulties and challenges facing China-U.S. relations have been most worrisome to the American business community.
"What I can offer is the certainty from the Chinese side. China's economy is promising, its market potential is huge, and its door of opening-up will only open wider," Qin said, adding China will continue to welcome American companies to the Chinese market.
"To be frank, the difficulties and uncertainties in China-U.S. trade and business cooperation are not from the Chinese side," he said.
Qin noted that China has been faithfully implementing the phase-one trade agreement despite the pandemic, while the U.S. side has continued to impose sanctions and restrictions on China, including putting more than 900 Chinese entities on various lists of restrictions.
"This has directly affected Chinese companies' ability and willingness to purchase from the U.S. and has had a negative impact on the implementation of the agreement," he said.
Qin's remarks came after U.S. media recently reported that the U.S. government is considering launching the so-called Section 301 investigation into Chinese subsidies in an attempt to pressure China on trade issues.
"It is hoped that necessary conditions and atmosphere can be created for the implementation of the phase-one agreement and bilateral economic and trade exchanges, rather than making things worse," he added.
"I would love to talk to you, and be a good listener and helper to you, so that we can uphold and promote the common interests of China and the U.S.," he told the audience.
"The ambassador's message to the CEOs was that the commercial relationship must thrive and grow while we work harder to resolve disagreements," USCBC President Craig Allen, who attended the meeting, said in a statement.
Gary Hufbauer, a former U.S. Treasury official and non-resident senior fellow at the Peterson Institute for International Economics, told Xinhua that he didn't expect another round of Section 301 tariffs against Chinese imports under the current U.S. administration as tariffs are not popular with U.S. businesses or consumers.
More than 30 U.S. trade groups, including the U.S. Chamber of Commerce and the USCBC, have called on the U.S. government to remove the "costly and burdensome tariffs," which they say are hurting American companies, consumers and the overall economy.
"The Administration can take immediate steps to relieve increasing inflationary pressures and rising prices for all Americans by reducing these tariffs," the trade groups said last month in a letter to U.S. Treasury Secretary Janet Yellen and Trade Representative Katherine Tai.