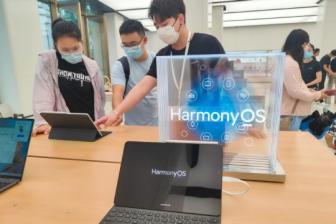 Customers try out Huawei products powered by HarmonyOS at a Huawei outlet in Shanghai in June. (Photo: China Daily/Wang Gang)
Huawei Technologies Co said more than 100 million users have upgraded their smartphone operating systems to its self-developed HarmonyOS 2.
On Tuesday morning, HarmonyOS-concept stocks rose on the heels of the news. Shares of Hoperun Information Technology, for instance, surged more than 8 percent in Shenzhen.