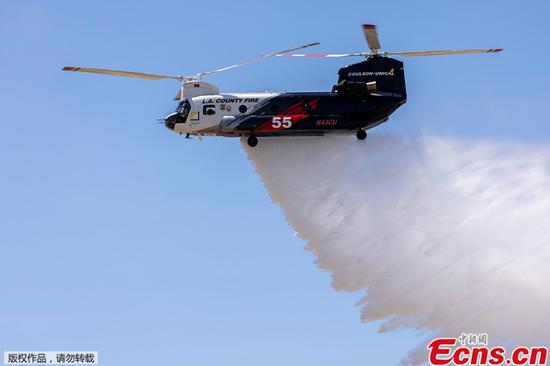 A firefighter helicopter demonstrates a water drop as officials announce a 180-day Quick Reaction Force program designed to help battle wildfires, during a media event at Joint Forces Training Base Los Alamitos in Los Alamitos, California, U.S., June 14, 2021. (photo/Agencies)
Scores of residents face evacuations as multiple wildfires are burning across California Tuesday in hot and dry weather conditions.
The largest of the blazes, the Willow fire in a remote area of Los Padres National Forest, ignited last Thursday night and has grown to 2,877 acres with zero containment by Tuesday evening, according to Inciweb, an interstate incident information system.
According to the system, 526 firefighters are battling with the fire, however steepness of terrain, inaccessible wilderness, few roads, heavy fuels and poor radio communication post heavy challenges for the firemen to work.
Due to the fire, the Monterey County Sheriff's Office on Monday issued evacuation orders for residents and many evacuation warnings for nearby communities.
A warming and drying trend was predicted to start on Friday and bring a return of extreme hot temperatures to the region over the weekend, Inciweb said, adding the fire was estimated to be contained by July 11.
Meanwhile, the Inyo Creek Fire which started last Friday grew significantly Monday night, flamed by strong wind, Inciweb noted, saying it has scorched over 640 acres as of Tuesday evening and forced backpackers to be evacuated from trails to Mount Whitney, the tallest peak in the contiguous United States.
Over 300 firefighters are fighting with the blaze, but their works are hampered by very inaccessible, steep, rugged and rocky terrain on scene.
Facebook users who were scheduled to summit Whitney through June 27 reported their permits are being canceled and refunded due to the fire. Some hikers evacuated Monday said they had to abandon their vehicles at the trailhead.
Besides these two wildfires, interactive map of Inciweb show that six more fires are burning in the Golden State on Tuesday. Enditem