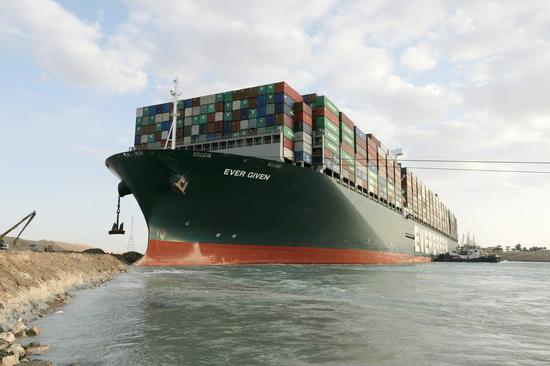 Rescue vessels work at the site of the stuck container ship Ever Given on the Suez Canal, Egypt, March 28, 2021. (Suez Canal Authority/Handout via Xinhua)
The traffic jam in the Suez Canal further tightened bottlenecks in global maritime trade caused by the COVID-19 crisis, according to a study published by the Kiel Institute for the World Economy (IfW Kiel) on Monday.
The COVID-19 crisis had "already caused distortions in maritime trade and caused prices for container transport to explode," said Vincent Stamer, an expert on maritime trade at IfW Kiel.
After completely blocking the Suez Canal for several days, the accident would continue to impact trade even once the waterway was cleared. According to IfW Kiel, the ship blockage in the Suez Canal and the aftermath were "being added as an additional burden."
As the traffic jam would drive up prices for seaborne trade, the development was "likely to be reflected in product prices sooner or later," added Stamer.
Every year, Germany exported around 121 billion euros (142.5 billion U.S. dollars) worth of goods to Asian countries by sea, the majority being motor vehicles and machinery, and around nine percent of all German goods exports and imports were shipped through the Suez Canal, the study noted.
At the same time, up to ten percent of all directly used intermediate electronics goods came to Germany from Asian economies, including China, India, Indonesia, Japan and South Korea, according to the study.
The costs of transporting goods from Asia to Europe already soared at the turn of the year 2020/21 as it was currently almost five times as expensive to transport a container from East Asia to Europe than one year ago, the study found.