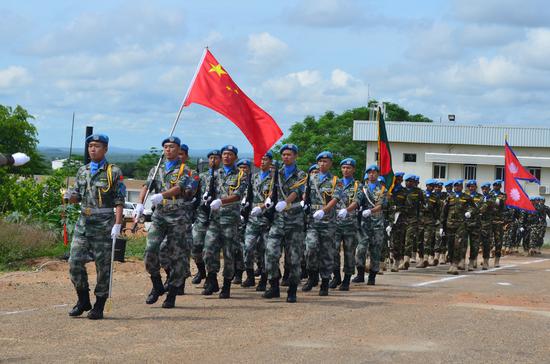 Chinese peacekeepers march during the celebrations to mark International Day of the United Nations Peacekeepers in Juba, capital of South Sudan, May 29, 2019. (Xinhua/Denis Elamu)
China's armed forces have cooperated on peacekeeping with over 90 countries and 10 international and regional organizations, according to a white paper released by the State Council Information Office Friday.
The white paper, titled "China's Armed Forces: 30 Years of UN Peacekeeping Operations," highlights the following aspects of the peacekeeping cooperation:
-- strengthen strategic communication to build consensus on peacekeeping;
-- contribute Chinese wisdom and share experience;
-- extend cooperation on joint exercises and training to build capability.