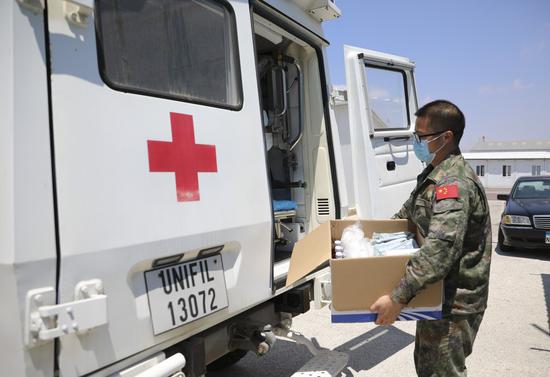 A health worker carries medical supply at the camp site of the Chinese peacekeeping troops to Lebanon in southern Lebanon, Aug. 5, 2020. (Photo by Huang Shifeng/Xinhua)
Since 2015, China has been responding actively to the UN call for more enabler assets including engineering and medical capabilities to support UN peacekeeping missions, says a white paper released by the State Council Information Office Friday.
Twenty-five rotations of engineer and medical units totaling 7,001 troops have been committed to missions in the Democratic Republic of the Congo, South Sudan, Sudan's Darfur, Mali and Lebanon, according to the white paper titled "China's Armed Forces: 30 Years of UN Peacekeeping Operations."