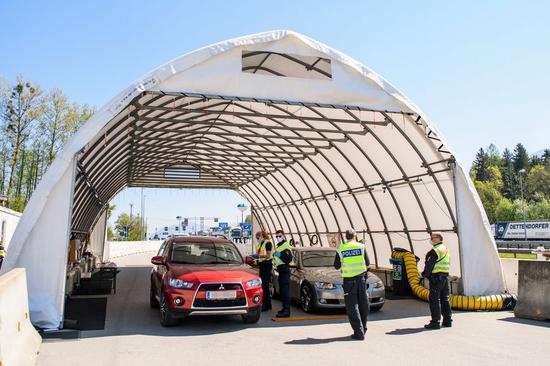 Police officers wearing face masks work at a checkpoint on the border between Germany and Austria in Bad Reichenhall, southern Germany, on April 23, 2020. (Photo by Kevin Voigt/Xinhua)
Special: Battle Against Novel Coronavirus
With an eye on salvaging the summer tourist season, more countries across Europe are making plans to reopen borders as they ease lockdowns in place to manage the novel coronavirus outbreak.
The earliest the European Union is considering allowing nonessential travel into the bloc from outside member states is June 15, but talks continue about how to relax quarantine measures.
The Spanish government on Monday said it aims to reopen borders to visitors around the end of June as its lockdown fully unwinds.
With the economy hit by COVID-19, Spain badly needs visitors back, but it is being careful to avoid a second novel coronavirus wave, Reuters reported.
Madrid last week surprised its EU partners by imposing a two-week quarantine on all overseas travelers and effectively keeping borders closed.
But Transport Minister Jose Luis Abalos said the move would be phased out in parallel with travel being allowed within Spain, whose regions are easing restrictions in different phases.
"As soon as we Spaniards can travel to other provinces, foreigners will be able to come to Spain," he told TVE broadcaster. "From late June, we'll start the tourism activity, I hope," he said. "We must make Spain an attractive country from the health point of view. It is consistent with the phase-out plan. We can't allow foreigners to travel while the Spanish population is confined," Abalos said.
As countries decide how to restart international travel, the idea of a "travel bubble" — sometimes called a travel corridor — is gaining traction. Such a move would cut red tape so people can cross borders with minimum hassle.
The United Kingdom's transport secretary on Monday announced plans for "air bridges" between countries with low novel coronavirus infection rates.
Grant Shapps said that the strict quarantine on all arrivals into Britain could be relaxed in favor of a more targeted focus on people from high-risk countries.
From early next month, all arrivals into the country — including Britons returning from abroad — will have to self-isolate for two weeks, with possible 1,000 pound ($1,223) fines for those who breach the rules.
Last week, three European countries — Estonia, Latvia and Lithuania — opened their borders to each other to create a Baltic bubble.
On Saturday, Italy's government announced that it would open its borders in early June, ending one of Europe's strictest lockdowns.
It hopes to revive the country's tourism industry, which contributes some 13 percent of gross domestic product. Starting June 3, the government will eliminate the 14-day quarantine for people arriving from abroad and will open both regional and international borders.
These new rules only apply to people arriving from member countries of the EU, countries within the Schengen zone, as well as the UK. Germany has also now loosened quarantine rules for European travellers.
The details on Britain's "air bridges" emerged as airlines, including Virgin Atlantic and British Airways, said that they would be unable to increase flight schedules significantly while the blanket quarantine requirements remained in place. Tui, the UK's biggest tour operator, said it is planning to operate holidays from June 14.