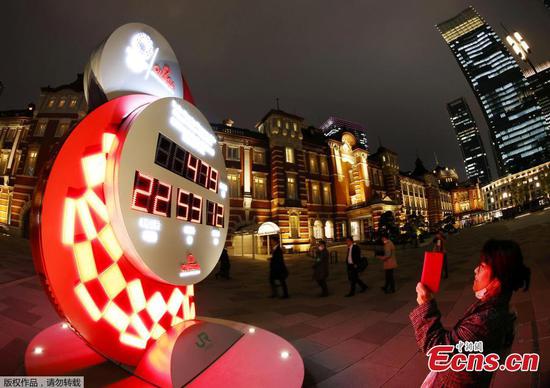 A passerby takes photos of a countdown clock showing the adjusted days and time for the start of the postponed Tokyo Olympic Games, which are now set to begin on July 23, 2021, in front of Tokyo station, in Tokyo March 30, 2020. (Photo/Agencies)
Special: Battle Against Novel Coronavirus
Some large-scale sporting events have been rescheduled following the postponement of the 2020 Tokyo Summer Olympic Games to July 23-August 8, 2021.
The 2021 World Athletics Championships, which was set to be held next year from August 6-15 in Oregon, U.S., will now be held in 2022.
In a press release, track and field's world governing body said it supports the decision made by the International Olympic Committee (IOC) and they are in discussion with the Commonwealth Games Federation and the European Championships for holding their event in 2022, but new dates have yet to be confirmed.
"We would like to thank our Oregon 21 Organizing Committee, their stakeholders and our partners for their collaboration and willingness to explore all options," the statement added.
International Swimming Federation (FINA) also welcomed the new dates for Tokyo Olympics, saying it would now examine ways to revise dates for its 2021 World Championships, initially scheduled for July 16-August 1.
FINA said it will consult with the organizers of the 2021 World Championships in the Japanese city of Fukuoka "to examine a revision to the proposed dates."
"To already know the new dates is very helpful to federations and athletes everywhere," said FINA President Julio Maglione.
Meanwhile, the 2021 FISU Summer Universiade was scheduled to kick off on August 16 in Chengdu, China, but FISU announced that they will maintain the planned August slot with only a slight two-day modification, following a request from the local organizers.
International University Sports Federation (FISU) said in a press release that maintaining the time will ensure student athletes face no eligibility challenges.
"Many Olympians are also World University Games participants, and they now have the opportunity to prepare for two major multisport competitions in Asia in the same time frame,"said FISU President Oleg Matytsin