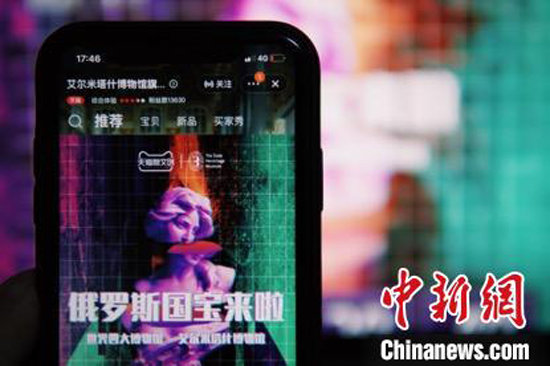 Russia's State Hermitage Museum opens on Tmall, March 29, 2020. (Photo /Screenshot)
Special: Battle Against Novel Coronavirus
(ECNS) -- The number of museums opening on Tmall, an e-commerce platform under Alibaba Group, is increasing as the novel coronavirus outbreak has forced many of them to close.
Some 28 museums, including the British Museum, the Metropolitan Museum of Art, the Palace Museum, the National Museum of China, and the Summer Palace, have opened on Tmall, with Russia's State Hermitage Museum being the latest to join on Sunday.
The much anticipated Louvre is also on the way to Tmall.
The number of people visiting museums online is 1.5 times higher than those visiting offline in China in the past year, with 100 million of them born in the 1990s, according to a report released by the Institute of Cultural and Economic Research of Tsinghua University and Tmall last August.
In early January 2019, Tmall launched the "new cultural and creative plan" to help museums promote their cultural and creative IPs.
The British Museum, the first overseas museum to open on Tmall, saw its annual sales of cultural products grow more than 2.5 times since it opened on the platform.
The Internet offered an opportunity to museums, and the pandemic outbreak has changed people's habit of visiting museums.
The move has also helped museums gain more young fans.