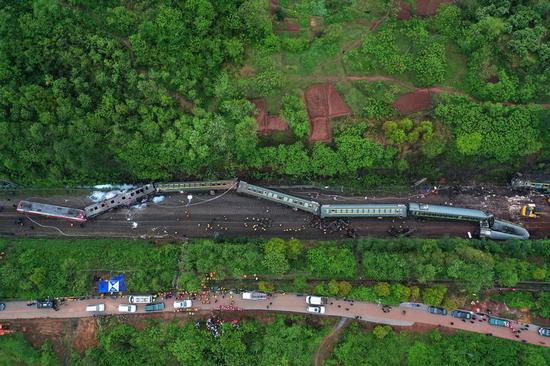 Aerial photo taken on March 30, 2020 shows the accident site after a train derailed at Yonghua Village of Yongxing County in Chenzhou City, central China's Hunan Province. (Xinhua/Li Ga)
Railway repair has been completed Tuesday after a train derailed in the central China's Hunan Province on Monday.
The railway repair was completed at around 9 a.m. Tuesday, said China Railway Guangzhou Group, adding that railway operation will gradually resume on the affected section of the Beijing-Guangzhou railway.
The accident happened in Yongxing County at 11:40 a.m. on Monday when the train ran into a landslide, leaving five carriages derailed, killing one and injuring 127. The power generation car caught fire.
All of the injured were sent to hospital, with four in serious condition, local authorities said on Monday.