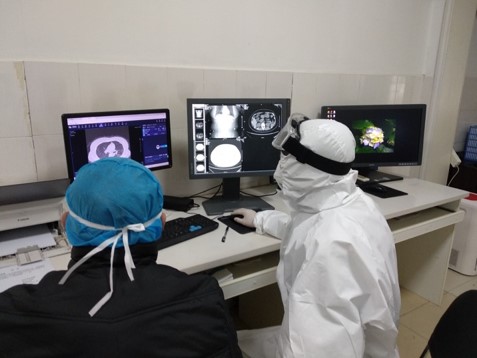 An engineer (right) from the medical AI startup Deepwise Healthcare trains doctors on how to use its AI imaging system, at Wuhan Ninth Hospital, a designated hospital for COVID-19 in Wuhan, Hubei province. (Photo provided to China Daily)
Special: Battle Against Novel Coronavirus
China's leading medical artificial intelligence startups are helping medical workers on the front line deal with the novel coronavirus outbreak, using medical imaging devices embedded with AI to make a clinical diagnosis of the disease, known as COVID-19.
Industry insiders said medical AI is able to help doctors make faster and more accurate clinical diagnosis, while reducing their workload.
Through clinical diagnosis, an estimated identification of COVID-19 cases are made based on symptoms, medical history and computerized tomography, or CT scans, before being confirmed by lab testing, thus reducing possible spread of the virus and improving treatment outcomes.
Deepwise Healthcare, a medical AI pioneer that has offices in Beijing, Shanghai and Hangzhou, capital of Zhejiang province, has deployed nearly 40 medical AI imaging systems -- with newly updated features for COVID-19 patients' CT scan identification -- to hospitals designated for disease treatment across Hubei province.
Its technicians have also been installing and adjusting new AI-powered imaging systems in more than 30 designated hospitals outside the province, while updating its medical AI imaging systems for more than 400 hospitals across the country to better cope with the clinical diagnostic demands of the disease.
"The significance of applying medical AI in clinical diagnosis of COVID-19 patients is that the clinical diagnosis is made much faster, and with systematic evaluation reports," said Qiao Xin, co-founder and CEO of Deepwise Healthcare.
"That saves doctors on front line time and energy to treat more patients, which is very important considering the large number of patients awaiting diagnosis and treatment."
Yitu Healthcare, the health arm of Shanghai-based AI startup Yitu Technology Co Ltd, has also launched an updated version of an AI imaging evaluation system for COVID-19.
Qiao said his company has also jointly established four online medical AI platforms with partners using cloud technologies, through which radiologists nationwide could lend a hand to the front line, where their counterparts are overloaded with work due to lack of professionals, especially in heavily stricken or remote areas.
Rimag, a Shenzhen-based third-party medical imaging service provider, said its cloud platform using medical AI imaging has provided service to more than 2,100 patients from 20 provinces. It plans to introduce more AI products to the platform to help fight the epidemic.