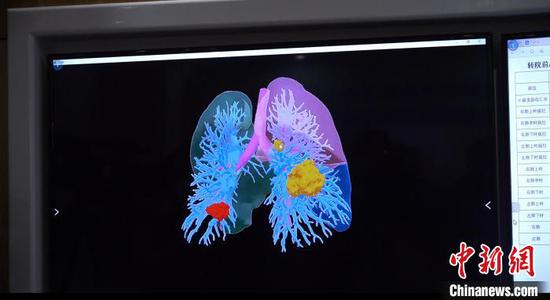 This photo shows a 3D-reconstructed lung model of a newly diagnosed coronavirus pneumonia patient. (Photo: China News Service/Du Xiaoxiao)
Special: Battle Against Novel Coronavirus
(ECNS) -- A digital remote diagnosis system based on 5G+AR+3D technologies has been used to help diagnose and treat novel coronavirus pneumonia cases in Yunnan Province.
Experts from the First Affiliated Hospital of Kunming Medical University and Yunnan Provincial Infectious Diseases Hospital jointly diagnosed a novel coronavirus pneumonia case on Monday.
They put on AR glasses and saw a 3D reconstruction model of a patient's lung. Using a remote control, they got close-up views of the nidus and microscopic structures in the lung.
The system integrates digital diagnosis with AR, 5G, 3D reconstruction, 3D printing and other technologies, said Wang Kunhua, president of the First Affiliated Hospital of Kunming Medical University. It allows medical staff to visually observe nidus and subtle structures and improves the cure rate, reduces mortality, complications and other risks, Wang said.
This is the first case of such technologies being used in Yunnan province, creating a new mode in diagnosis and scientific research.
Experts can guide the clinical medical staff in time through the system, improving efficiency, it was added.
As of Monday, there have been no new confirmed COVID-19 cases reported for 11 consecutive days in Yunnan, with four confirmed cases still under treatment.