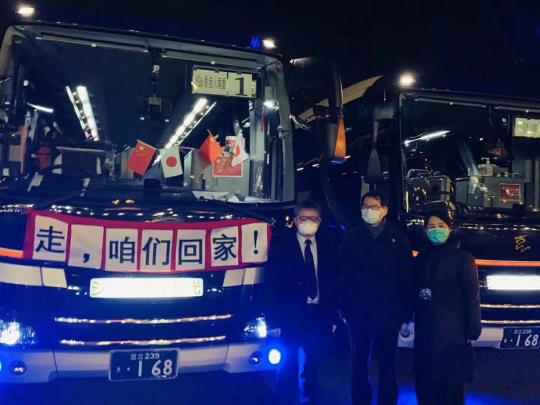 Liu Danhong (right), a Chinese expat in Japan, together with Zhan Kongchao (left), consul general of the Chinese embassy, and Sonny Au Chi-kwong, undersecretary for security of Hong Kong, help Chinese passengers onboard the Diamond Princess cruise ship go home. (Provided to China Daily)
Special: Battle Against Novel Coronavirus
A 61-year-old woman, who took a chartered plane to return to Hong Kong after her quarantine on board a luxury cruise ship in Japan, was diagnosed with novel coronavirus pneumonia on Friday.
She had gone on a cruise along with her husband, sister and brother-in-law. Besides her, seven other passengers from Diamond Princess cruise liner had been diagnosed with the virus in Hong Kong.
They had all flown back to Hong Kong on a chartered plane organized by the Hong Kong Special Administrative Region government and the Chinese embassy in Japan in late February.
Even before their evacuation, an important task had to be accomplished. Passengers from Diamond Princess had to be carried to Haneda Airport in Tokyo, from where they could be flown to Hong Kong.
Liu Danhong, a Chinese citizen living in Japan since 1995, and her Japanese colleagues risked their health in driving them to airport.
Liu, also known as Yumi Harada, received a request on Feb 15 from the Chinese embassy in Japan to help evacuate the passengers.
She was told Hong Kong government would send a chartered plane to evacuate the passengers from the cruise ship. She learned the embassy could not find a vehicle to carry them from Yokohama Port to the Tokyo airport.
The embassy had sought help from overseas Chinese in Japan.
The ship, which was quarantined at the port since Feb 3, had 621 people on board infected with novel coronavirus by Feb 20.
Out of the 312 Chinese passengers on board, 261 were from Hong Kong, five from Macao, 25 from Taiwan and 21 from the Chinese mainland, according to Fjsen, a news portal based in Fujian province.
Fan Guoxun, an official with the representative office of the Hong Kong SAR government in Tokyo, said he was surprised Liu and the embassy could arrange for the buses so quickly.
"We couldn't find any vehicles to transport the stranded passengers after receiving orders from Hong Kong SAR government," he said. "We were so restless for several days worrying about the vehicles, and had to ask help from the embassy."
"I hesitated when I first received the request," Liu said. "The coronavirus spreads fast. Transporting passengers from the ship might affect my workers' health and the company's operations."
She first contacted dozens of car rental companies that had business with her company.
After several phone calls on Feb 15 and 16, only three companies agreed to drive five buses to carry passengers from the ship.
But all the three companies backed out the next day, with the number of infected people increasing on the ship. "I had no other option than to dispatch all buses from my travel company," said Liu.
"I held a meeting immediately to ask help from the workers. As expected, many of them hesitated, saying they need to discuss with their family members."
She told them her people were in trouble. "I told them I wanted to try my best to help."
Eventually, 13 bus drivers and 10 workers agreed to carry out the task.
To ensure the safety of her colleagues, Liu worked with the embassy and managed to provide protective clothing to each driver.
On Feb 19, Liu and her colleagues in 13 buses waited at the port for hours in freezing cold. They managed to transport the passengers to the airport, from where they arrived in Hong Kong safely.
This isn't the first time that Liu has offered help.
In 2011, following an earthquake, a tsunami had caused a radioactive leak in a nuclear power plant in Japan's Fukushima Prefecture. Liu went to Fukushima along with some volunteers and helped evacuate the victims.
In 2018, she helped rescue local people when Typhoon Jebi struck Japan's Kansai region.