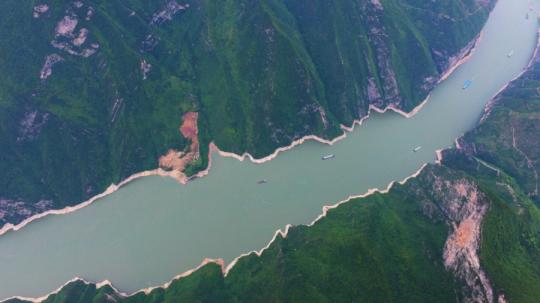 Photo taken on May 23, 2018 shows the scenery of Qutang gorge in Southwest China's Chongqing municipality, May 23, 2018. Qutang is one of the Three Gorges (Qutang, Wuxia and Xiling gorges), which extend for about 200 kilometers on the upper and middle reaches of the Yangtze River, the longest in China. (Photo/Xinhua)
The Yangtze River, the country's longest watercourse, saw continuous improvement in its water quality in 2019 as the country continues a campaign on the water body's protection, a senior environmental official said.
The quality of water in 91.7 percent of the Yangtze's sections last year stood above Grade 3, the third highest in the country's five-tier water quality system, up by 4.2 percentage points year-on-year, said Zhang Bo, chief engineer of the Ministry of Ecology and Environment.
Only 0.6 percent of sections were found with quality below Grade 5, the lowest quality, down by 1.2 percentage points, and there are now only three sections with such poor water quality in the river, said Zhang, also head of the ministry's water department.
The Chinese government has been attaching greater importance to Yangtze conservation after President Xi Jinping presided over a national conference on the Yangtze River Economic Belt in January 2016. During the conference, he demanded concerted efforts to protect the river and avoid excessive development.
In one of its latest efforts to enhance Yangtze conservation, the ministry, together with the National Development and Reform Commission, launched a special campaign on Yangtze conservation in early 2019.
A major task of the campaign is to enhance governance of chemical factories along the Yangtze.
The ministry completed rectification work on over 900 chemical companies in 2019. Some of them were moved away or shut down, and others had rectified their environmental violations, Zhang said.
He said more efforts will be made to optimize the distribution of chemical industrial parks and promote their transformation and upgrading in 2020 with an aim of "realizing a win-win for conservation and development".
According to the ministry, it mapped out 60,000 polluting wastewater outlets along the Yangtze and its nine major tributaries in the campaign last year, which is 30 times more than previously reported by local governments. The ministry will trace the sources of wastewater in these outlets before rolling out measures to enhance governance.
However, Zhang said, it remains challenging to address pollution from phosphorus-related industries in the Yangtze basin despite the achievements that have been made.
The phosphorus-related industries are mainly concentrated in the middle and upper reaches of the Yangtze and are major sources of blame for total phosphorus pollution.
"They are key in improving water quality in these areas," he noted.
The ministry dispatched 13 teams to 121 phosphorus-related companies to facilitate their work in removing environmental hazards. So far, 172 of the 281 such companies with environmental violations have managed to rectify their problems, Zhang said.
He added that while the number of Yangtze sections with an excessive amount of total phosphorus has declined from 137 to 109, the disposal of ardealite, a waste residue from phosphoric acid production, remains a challenging task.
Phosphoric acid is a major raw material for some fertilizers and fodders. The production of 1 metric ton of phosphoric acid usually results in 5 tons of ardealite. In 2018, for example, over 1,000 tons of ardealite were generated in each of the three provinces in the Yangtze basin-Hubei, Yunnan and Guizhou.
"Though some local governments have instructive experiences and approaches in utilizing ardealite as resources, there are huge stockpiles of the substance after decades of accumulation. It takes time to utilize them," he said.