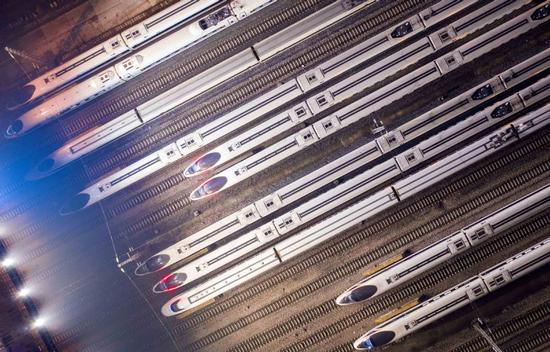 High-speed trains wait to run during the Spring Festival travel rush in Nanjing, East China's Jiangsu Province, on Jan. 10, 2020. (Photo by Su Yang/for chinadaily.com.cn)
Special: Spring Festival 2020
China's rapidly expanding high-speed railway network, especially its growing number of lines to landlocked areas that provide most of the country's migrant workers, is making travel easier during the world's largest annual human migration.
The network of eight east-west lines and eight north-south lines, which initially focused on high-speed connections between major economic hubs along the east coast, has been extended to less-developed regions in recent years, making it easier for millions of migrant workers to return to rural areas and mid-sized towns for Spring Festival celebrations.
Liu Shuchun, who runs a small restaurant in Shanghai, was happy to take the bullet train to his hometown of Fuyang, in Anhui province, for the first time during this year's 40-day Spring Festival travel rush.
Fuyang, with a population of about 10.7 million, has long been known as a major source of labor, sending over 3.5 million migrant workers annually to the Yangtze River Delta, the Pearl River Delta and other developed regions.
However, the lack of direct high-speed rail services to their hometowns made it difficult for these migrant workers to visit their families. For two decades, Liu, 45, had to endure an exhausting 11-hour bus ride from Shanghai to Fuyang for the annual family gathering.
Last month's opening of a 276-kilometer high-speed railway line linking Fuyang and Zhengzhou, Henan province, has led to a dramatic improvement in travel times.
"I was often caught up in traffic jams on the roads, which are worse during the holiday. It was really a long and tough journey," Liu said. "With the high-speed train, however, the journey now only takes about three hours. It's so fast and convenient."
Liu also used to line up for hours at the bus station to get a ticket for his trip home, but this year he bought a train ticket using an app on his smartphone in a couple of minutes. He's among a growing number of Chinese travelers who have benefited from more convenient and efficient Spring Festival travel arrangements in recent years.
Li Chenglin, director of the passenger transport department at Fuyang West Railway Station, said the newly opened high-speed railway station is capable of handling 43,000 passengers a day, far more than the expected peak of about 28,000 a day during this year's travel rush.
He said the high-speed railway station and the old one in Fuyang will handle more than 1.74 million Spring Festival passengers this year, up nearly 20 percent year-on-year.
Zhao Jian, a professor specializing in railways at Beijing Jiaotong University, said that whether migrant workers' seasonal travel would be made easier depends on the high-speed network's accessibility in rural areas, the frequency of existing rail services and ticket prices.
"The system will bring improvements. High-speed rail can ease our transportation bottlenecks," he said. "Not all migrant workers require high-speed trains, but if more passengers take the high-speed trains, that should relieve pressure on the ordinary ones."