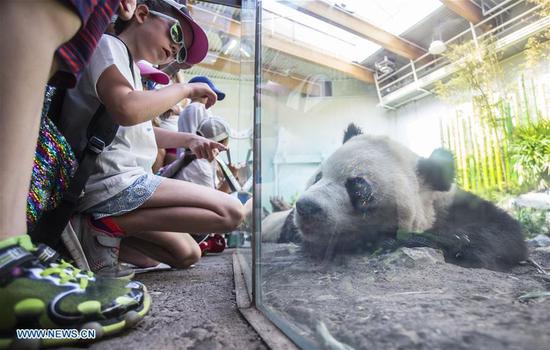 eople look at a giant panda at Panda Passage of the Calgary Zoo in Calgary, Canada, on July 16, 2018. (Xinhua/Zou Zheng)
Panda cubs Jia Panpan and Jia Yueyue in Canada's Calgary Zoo will be moving to the Giant Panda Research Base in Chengdu, capital of China's southwestern Sichuan Province, in early 2020, according to the Calgary Zoo on Wednesday.
Jia Panpan, a male, and Jia Yueyue, a female, came to Calgary city in March 2018, and they are now almost 4 years old.
The panda twins are leaving Calgary as the term of their loan agreement between Canada and China has come to an end.
The panda twins were born at the Toronto Zoo on Oct. 13, 2015. Their parents -- female panda Er Shun, and male panda Da Mao -- were brought to Toronto in 2013 as part of a loan agreement between Canada and China. They will stay in the Panda Passage at the zoo until 2023.