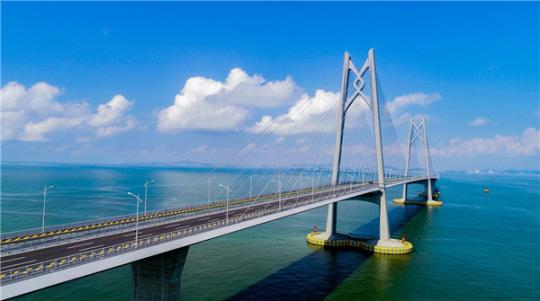 Hong Kong-Zhuhai-Macao Bridge. (Photo by Wu Changfu/Zhuhai Daily)
The tourism and logistics sectors in Hong Kong, Macao and western Guangdong province have great market potential thanks in large part to the Hong Kong-Zhuhai-Macao Bridge, a year after the world's longest cross-sea thoroughfare opened to traffic, according to industry insiders.
The 55-kilometer bridge has served over 24 million passengers-an average 67,000 per day-since its opening on Oct 24 last year, according to the Guangdong government.
Over 70,000 vehicles from Hong Kong, Guangdong and Macao have registered to be able to use the bridge, and since its opening, over 1.5 million vehicles have crossed the bridge.
Timothy Chui Ting-pong, executive director of the Hong Kong Tourism Association, said the bridge has become a tourist spot across the Guangdong-Hong Kong-Macao Greater Bay Area due to its unique engineering design and the magnificent views of mountains, city and sea.
Chui said the bridge has attracted a growing number of travelers to or from Hong Kong since its opening, with travel time to traverse the structure's span under an hour.
However, he said that due to recent unrest in Hong Kong, visitors to the city from across the world have slumped.
Chui hoped Hong Kong would return to order as soon as possible, and he believed the number of travelers will pick up afterward.
He hopes tourist facilities on the artificial island at the eastern end of the bridge will open to visitors soon and further unleash the tourism potential of the structure.
As of the end of September, goods with a total value of $8.4 billion have been transported across the bridge, with products coming from 26 provinces on the Chinese mainland. Over 90 percent of the goods were from Zhuhai.
Frank Jin, founder of a Zhuhai-based customs declaration broker, assists companies in passing through customs checkpoints at the bridge before passing into Hong Kong.
With about 300 cargo vehicles traveling between Hong Kong and Zhuhai over the bridge on an average day, Jin said his companies have dealt with over 10,000 customs declarations in the past year amid steady growth in freight volume.
Jin said many large manufacturing companies in southwestern Guangdong sending their goods to Hong Kong for export have successively changed their transport routes from ports in Shenzhen to ports at the bridge, which save them some three hours on the road.
Most of them are enterprises in Zhuhai, such as electronics manufacturers like Philips and Panasonic, Jin said.
It takes time for market demand to kick in, while the operation of manufacturing companies doesn't change overnight, Jin added.
Noting that protests in Hong Kong have affected some businesses across the border, Jin said he remains positive about the future.
He believed the total volume of freight traffic on the bridge will double next year.
Kou Kun-pang, president of the Chartered Institute of Logistics and Transport in Macao, said the bridge has provided more transport options for residents and travelers in Macao.
Kou noted that at least 40 percent of frequent ferry passengers now more often turn to the bridge for travel between Hong Kong and Macao.
As the bridge is also located beside the Hong Kong International Airport, Kou said it has attracted more people in Macao to the airport due to reduced travel time.