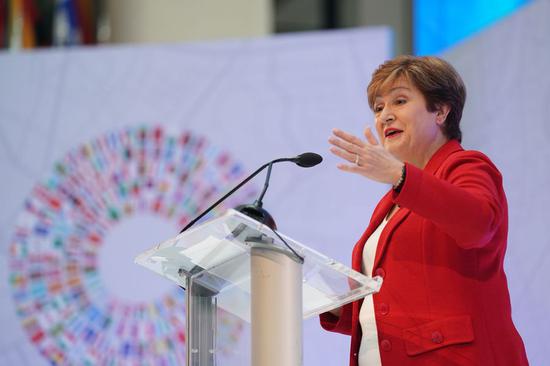 Kristalina Georgieva, new chief of the International Monetary Fund (IMF), delivers a speech in Washington D.C., the United States, on Oct. 8, 2019. (Xinhua/Liu Jie)
Trade tensions are "taking a toll" on global growth, at a time when the global economy is going through a "synchronized slowdown," Kristalina Georgieva, the new managing director of the International Monetary Fund (IMF) said here Tuesday.
"Uncertainty -- driven by trade, but also by Brexit, and geopolitical tensions -- is holding back economic potential," the IMF chief said at an event at the global lender's headquarters ahead of the annual meetings of the IMF and the World Bank next week.
TRADE TENSIONS DAMPEN GROWTH
"In part because of the trade tensions, worldwide manufacturing activity and investment have weakened substantially," said the Bulgarian economist, who succeeded France's Christine Lagarde and took office on Oct. 1. "There is a serious risk that services and consumption could soon be affected."
"And the fractures are spreading. Disputes now extend between multiple countries and into other critical issues," said Georgieva, who is the former chief executive officer of the World Bank.
The U.S.-China trade conflict has not only increased direct costs on businesses and consumers, but also caused "secondary effects," such as the loss of confidence and market reactions, she said.
The cumulative effect of trade conflicts could mean a loss of around 700 billion U.S. dollars by 2020, said Georgieva. "As a reference, this is approximately the size of Switzerland's entire economy," she said.
Even if growth picks up in 2020, Georgieva said, the current rifts could lead to changes that last a generation -- broken supply chains, siloed trade sectors, a "digital Berlin Wall" that forces countries to choose between technology systems.
"The results are clear. Everyone loses in a trade war," said the new IMF chief. "So we need to work together, now, and find a lasting solution on trade."
"This requires difficult decisions and political will. But it is worth it," she said.
SYNCHRONIZED SLOWDOWN
The new IMF chief said the global lender expects slower growth in nearly 90 percent of the world this year. "This widespread deceleration means that growth this year will fall to its lowest rate since the beginning of the decade," she said.
She noted that the IMF will show downward revisions for economic growth in 2019 and 2020 in its updated World Economic Outlook (WEO) report, to be released next week at the annual meetings.
According to its most recent WEO report in July, the IMF already lowered its global growth forecast for 2019 to 3.2 percent, and also downgraded the forecast for 2020 to 3.5 percent.
Despite this overall deceleration, Georgieva said, close to 40 emerging market and developing economies are forecast to have real GDP growth rates above 5 percent -- including 19 in sub-Saharan Africa.
Across advanced economies, including in the United States, Japan, and especially the euro area, there is a "softening" of economic activity, she said.
The "precarious" outlook presents challenges for countries already facing difficulties -- including some of the Fund's program countries, she said.
SYNCHRONIZED POLICY ACTION
Noting that the global economy is in a "synchronized slowdown," Georgieva called for a "synchronized policy action" to accelerate growth and build more resilient economies.
Policy priorities, she said, include using monetary policy wisely and enhancing financial stability, deploying fiscal tools to meet current challenges, implementing structural reforms for future growth, and embracing international cooperation.
Georgieva said central banks should communicate their plans clearly, remain data dependent, and "where appropriate" keep interest rates low, while warning that prolonged low rates also come with "negative side effects" and "unintended consequences," such as risky investments and excessive credit growth, which could create financial vulnerabilities.
"Our new analysis shows that if a major downturn occurs, corporate debt at risk of default would rise to 19 trillion U.S. dollars, or nearly 40 percent of the total debt in eight major economies. This is above the levels seen during the financial crisis," Georgieva said.
"So we need macroprudential tools. And we can use new approaches to better manage debt, reduce financial booms and busts, and contain volatility," she said, adding that monetary and financial policies cannot do the job alone and fiscal policy must play a central role.
Georgieva, who has been a champion in the global fight against climate change, also said one of the priorities at the IMF is to assist countries as they reduce carbon emissions and become more climate resilient, urging countries to adopt "a significantly higher carbon price."
New research at the IMF confirms that carbon taxes can be one of the most powerful and efficient tools, Georgieva said. "But the key here is to change tax systems, not simply add a new tax," she added.
"I am confident that if we cooperate -- mindful of each other's challenges and interests -- we can deliver a better future for all," she said.