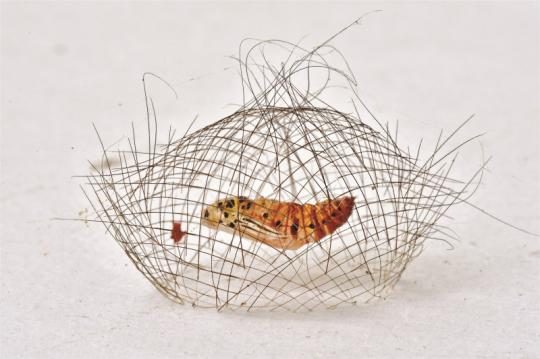 The hair-net cocoon by Chinese photographer Yuan Minghui. (Photo provided by Wildlife Photographer of the Year)
Insect image highly praised by competition judges
A sleeping seal, a zombie beetle and a tragic turtle are just some of the striking images competing inthe 2019 Wildlife Photographer of the Year competition at London's world-renowned Natural History Museum.
Now in its 55th year, the competition showcases the best nature photography and photo journalism. Among the Highly Commended images is a photograph of a cocoon of a cynamoth pupa by Chinese photographer Yuan Minghui.
Yuan came across the cage-like cocoon on the outside wall of a toilet at the Xishuangbanna tropical botanical garden in Southwest China. A more typical location for such a cocoon would be a tree trunk or rock.
"It was still rainy season so the sun was covered by the dark clouds most of the time," he said. "I looked for a proper shooting angle and waited for an hour and a half before shooting when the sun was bright. I chose a small aperture to show the lines of this cage-like cocoon. This is not only the art of life, but also the refinement and interest of life."
In the image, entitled The hair-net cocoon, the caterpillar had used its long, hair-like features known as setae to weave a delicate cage, just 4 centimeters long, inside which it would pupate.
Yuan, who has won numerous international awards in photography, said it is his "mission to show the beauty of China's wildlife and the achievements of environmental protection to the world".
"The more important thing is to attract Chinese attention to the beauty of nature around us through beautiful award-winning works. I hope this can finally benefit the wildlife in China," he added.
Yuan specializes in natural landscapes, plants and insects, as he would like to show "the beauty and dignity of ordinary life, as well as ourselves".
"The fragility of wildlife is closely linked to human destruction of the environment. To protect the environment and care for life is to love ourselves. As my opinion, it is a kind of return to humanity," he said.
Roz Kidman Cox, chair of the Wildlife Photographer of the Year jury, described Yuan's photo as "an exquisite creation" that reveals "both the simple yet complex beauty of nature and vision of the photographer, who has presented his discovery as a work of art".
The overall winners will be announced on Oct 15 at an awards ceremony in the museum's iconic Hintze Hall. Winning images are selected for their creativity, originality and technical excellence. This year's competition attracted almost 50,000 entries from professionals and amateurs across 100 countries.