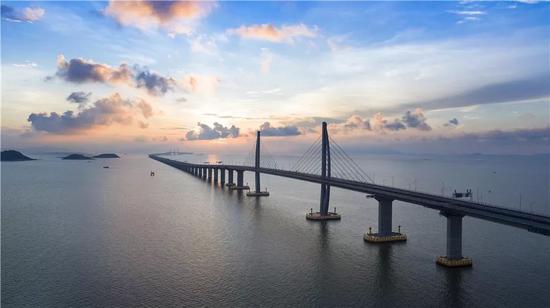 The Hong Kong-Zhuhai-Macao Bridge. (Photo/Xinhua)
Special: Greater Bay Area
The Greater Bay Area, or GBA, spans Hong Kong, Macao and nine cities in Guangdong province. A GBA framework agreement was signed by the National Development and Reform Commission and the governments of Guangdong, Hong Kong and Macao in July 2017.
The authorities concerned announced policy directions on the initiative in February, in the form of the Outline Development Plan of the GBA.
The plan, which includes near-term goals until 2022 and longer-term goals until 2035, has specific sections dedicated to turning the GBA into a global technology innovation center, expediting infrastructure connectivity, building advanced manufacturing and modern services industries, and developing a quality living circle, among other objectives.
All of these are important to enhancing the region's leading role in national economic development and opening-up.
The idea is to create a world-class city cluster through collaboration and integration, made possible by the cities' clear division of economic functions, high level of economic vibrancy and internationalization, and a long history of cooperation through Pearl River Delta integration.
The plan aligns one of China's most robust and dynamic regions with the country's long-term economic priorities. This should help the GBA expand strongly and stay relevant, allowing it to spearhead China's economic transformation and reshape how companies operate in the region for decades to come.
High expectations
Standard Chartered Bank's corporate clients appear to share the same view, based on responses to the bank's annual survey conducted after the Lunar New Year holidays.
The 200-plus surveyed companies are headquartered largely in Hong Kong, Taiwan province or the Chinese mainland, with manufacturing operations in the mainland GBA cities.
A majority 64 percent of respondents see the GBA presenting new business opportunities some years down the road, matching expectations for renminbi internationalization. This is up from a mere 49 percent a year prior to the GBA, suggesting that the market talk leading up to and following the announcement of the GBA Outline Development Plan clearly boosted awareness and lifted expectations.
Businesses are expected to benefit in more than one way from the GBA's transformation. About 15 percent of respondents said the GBA would become more an important consumer market for their business, followed by 12 percent saying it could be a sourcing base, with just below 10 percent saying it could be a production base, R&D base or treasury center.
While these numbers do not seem impressive, we highlight that the surveyed companies probably already operate heavily in the GBA.About 65 percent or more respondents see the GBA being at least as important, going forward, across all their business functions.
Interestingly, 63 percent respondents said that an accelerated launch of GBA policies would have a positive impact on their business in 2019.While it is not surprising that clients favor more direct and immediate policy relief, such as "more tax cuts" (72 percent), "more support to SMEs and private enterprises" (72 percent) and "fee reduction" (69 percent). We believe a faster rollout of GBA policies could help China prepare for the worst-case scenario amid rising trade friction with the US.