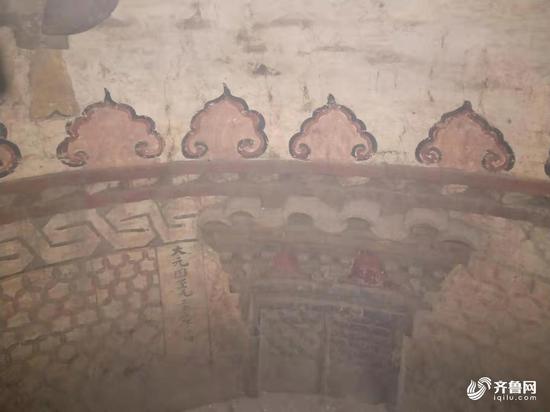 Delicate murals is discovered in a tomb in east China's Shandong Province, July 3, 2019. (Photo/iqilu.com)
An ancient tomb with delicate murals was discovered in east China's Shandong Province, according to the institute of archaeology in Jinan, Shandong's capital.
Located in Jinan's Changqing District, the brick-chambered tomb was believed to date back to the Yuan Dynasty (1271-1368), according to Guo Junfeng with the institute.
The underground part of the tomb is a Mongolian yurt-like rotunda. Its dome was carved with relief in the shape of a lotus flower. The walls were painted with cloud-like patterns, which is believed to bring good luck in Chinese culture. The date of the tomb was also written on the wall.
"The tomb is very valuable as very few tombs with written records from the Yuan Dynasty were ever discovered," said Guo, who added that the tomb will be protected and preserved in its original place and a salvage excavation will not be considered as there is no construction work that could affect the safety of the tomb.