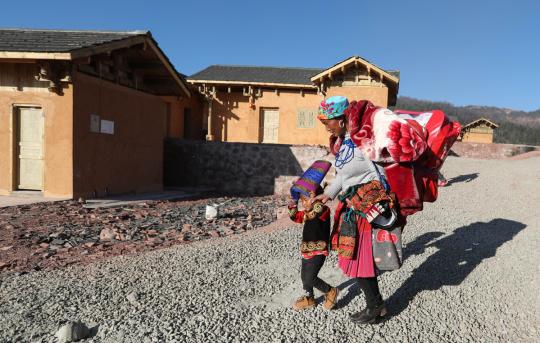 People of Yi ethic group move to their new houses in Sanhe village of Sichuan province, on Feb. 24, 2019. (Photo/Xinhua)
Government takes aim at groups accused of abusing relief programs
More than a year after it stepped up oversight of local authorities' use of poverty relief funds, the central government is now targeting abuse of poverty relief programs by profit-seeking NGOs.
The Ministry of Civil Affairs, which oversees the operations of domestic NGOs, and the State Council Leading Group Office of Poverty Alleviation and Development issued a circular recently aimed at stamping out misconduct in NGOs' poverty reduction endeavors.
It criticized organizations that exploit such programs to enrich themselves and urged more transparency in the spending of funds raised from the public.
The circular also warned of serious punishment for NGOs that embezzle money from such programs and said those suspected of criminal offenses will be handed over to the public security authorities.
Despite the warnings, the two departments reiterated their support for NGO involvement in the campaign to eradicate absolute poverty nationwide by the end of 2020.
They will coach charitable groups to make full use of tax breaks tailored for relief funds, and will instill discipline in NGOs' relief efforts through annual checkups and evaluations, the circular said.
Qu Tianjun, a senior official who oversees nongovernmental participation in poverty relief, told a news conference in Beijing last month that government departments needed to ramp up oversight and thoroughly investigate suspicious NGOs.
Several recent cases of embezzlement of relief funds by government officials have sparked public fury.
One of the most high-profile scandals involved five officials from Zhangjiakou, Hebei province, who were sacked last year for embezzling poverty relief funds and dereliction of duty.
The Central Commission for Discipline Inspection of the CPC, the top graft watchdog, said all 15 townships in Zhangjiakou's Kangbao county had embezzled relief and agricultural funds and the county's disciplinary officials had failed to investigate the cases and accepted bribes.
To address such woes, the CCDI launched a three-year crackdown last year on officials who undermine poverty relief efforts.
But the misconduct seems to have spread to the nongovernment sector. Qu said more than 20 organizations have been reported to the central authorities for allegedly skimming money from funds raised in the name of poverty relief.
Cheng Wenhao, a chief researcher at Tsinghua University's Center for Anti-Corruption and Governance, hailed the new focus on NGOs, adding that governments need to encourage the timely disclosure of information to root out corruption.
"It's laudable for NGOs to get involved in poverty relief," he said. "But the prospect of corruption exists as long as one organization owns the resources."
The nongovernmental sector-including charitable groups and enterprises-has long been seen as possessing huge potential to help the government fulfill its promise of freeing China from absolute poverty by the end of 2020.
To harness the power of NGOs in poverty alleviation, the central government released a circular in 2017 encouraging them to play a bigger role in the fight against poverty and promised to provide financial aid for such undertakings.
Figures provided by the Ministry of Civil Affairs show that more than 680 national-level social organizations injected a total of 32.3 billion yuan ($4.7 billion) into relief projects last year, helping 5.81 million poor farmers.
Huang Ru, deputy director of the ministry's bureau for social group administration, said the figures show NGOs have become critical forces in relief work.
The ministry will continue to guide them and their programs to the poorest regions and strengthen efforts to prevent misconduct, she said.