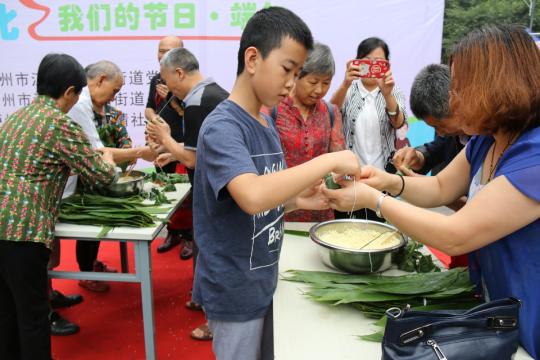 Youngsters learn to make zongzi (rice dumplings) in Luzhou city, Sichuan province. XINHUA
Special: DragonBoatFestival
A look at many ways in which people observe Dragon Boat Festival
Taking a stroll around the city's Songhua River and Central Street is a significant part of the celebration of Duanwu Festival, or Dragon Boat Festival, for residents in Harbin, Heilongjiang province. The traditional Chinese holiday falls on Friday this year.
Official data show that last year, the number of visitors to the Songhua River during the festival exceeded 3.23 million, or about one-third of the city's population.
The tradition originated from the Manchu ethnic group. On the morning of Dragon Boat Festival, they hike in rural areas to refresh themselves and stay healthy.
Fu Binghan, a 28-year-old civil servant from Harbin, says: "A sea of people surges forward on Central Street-both locals and tourists. I'm impressed to see someone dressed up like Qu Yuan and recite his poetry."
Legend has it that the patriotic poet Qu Yuan drowned himself in the Miluo River during the Warring States Period (475-221 BC). This eventually gave rise to Dragon Boat Festival.
To mark the event, Fu says, some locals set up camp in a nearby park or by a dam to have a picnic, and enjoy themselves with family or friends. There are also dragon boat races on the Songhua River.
"It's also an opportunity for family reunions. And young people should join local festivities to learn about culture," he says.
Like him, Chinese of different ages across the country observe the festival in their own ways.
Beijinger Han Ping prepares a month ahead, buying ingredients for her homemade zongzi (pyramid-shaped rice), which she gives as gifts to her friends. The 61-year-old was a guest host on a Beijing TV food program and often teaches others how to make zongzi.
Beijing's traditional zongzi are filled with small red jujube stuffing, and people often eat them by dipping them in sugar.