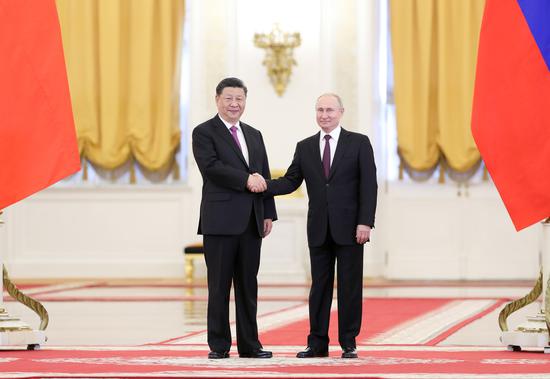 President Xi Jinping and Russian President Vladimir Putin meet in Kremlin after Xi's arrival in Moscow on Wednesday. Xi is paying a three-day state visit to the country.(Photo/Xinhua)
Special: Xi visits Russia, attends SPIEF
Joint statement of Xi, Putin meets expectations of two peoples, world
China and Russia signed two important joint statements, one to develop the lately upgraded bilateral relations and the other to promote world stability during President Xi Jinping's state visit on Wednesday.
The statements were signed by Xi and Russian President Vladimir Putin at the Kremlin in Moscow.
The two leaders decided on Wednesday to lift the bilateral relationship to a comprehensive strategic partnership of coordination for new era, and the two governments issued a joint statement on developing the lifted partnership.
In the other statement, the two governments focus on reinforcing global strategic stability.
Xi and Putin also witnessed the signing of a number of cooperation documents covering such areas as investment, 5G technologies, e-commerce, natural gas, soybeans, nuclear power and the Belt and Road.
In talks with Putin, Xi said that both countries are facing changes in the world that were not seen in the past century.
The people of both countries and the international community have greater expectations of China and Russia, Xi said.
There is no end to the development of China-Russia relations, Xi said, adding that China would like to make joint efforts with Russia to bring more benefits to the people of both nations.
Noting that this is his first state visit to Russia since he was reelected president last year, Xi said that the two leaders have maintained close contact in recent years.
This year marks the 70th anniversary of the establishment of diplomatic relations, and the bilateral relationship is at its best in history, Xi said.
In a written statement released after his arrival in Moscow for the three-day visit to Russia, Xi said China and Russia have created a role model of peaceful coexistence and win-win cooperation between neighboring countries as well as between major world powers.
In a joint interview with the TASS Russian News Agency and the Rossiyskaya Gazeta newspaper ahead of the visit, Xi said the two countries have always firmly supported each other on issues regarding their respective core interests and major concerns.
The president called on the two countries to enhance support for each other, seek greater synergy between their development strategies, expand areas of cooperation, and play a more constructive role in international affairs.
Two-way trade between China and Russia hit a record high of over $100 billion last year. Major strategic cooperation projects have been steadily carried out in such areas as energy, transportation, agriculture, aviation and space.
Xi said that the notable results of the two countries' business cooperation are especially valuable given the current complex environment of sluggish global trade and investment and surging protectionism in the world.
China and Russia are making proactive efforts to bring their trade volume to a higher level and promote high-quality development in bilateral trade, he added.
Xi will also attend the 23rd St. Petersburg International Economic Forum and address its plenary session during the visit.