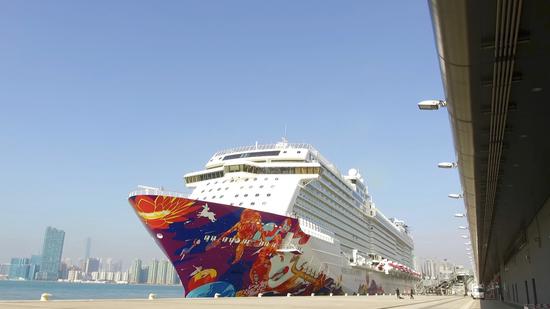 A new cruise home port will be put into use by the end of 2019 in Guangzhou. /CGTN Photo
Special: Greater Bay Area
Talking about ports, what comes to your mind except for containers? Well, sometimes people relate them to leisure and fun – luxurious rooms, swimming pools, and duty-free stores. All that and more are what you can find on a "floating hotel."
It's what many people call a cruise.
Chinese people love them. In 2017, China had nearly 67.8 percent of the cruise market share in the Asia-Pacific region, according to the 2017-2018 China Cruise Industry Development Report.
"The vast majority of cruise vacations are within Asia, some of the popular destinations are Okinawa in Japan, Vietnam, the Philippines, Singapore, etc.," according to Jeff Bent, managing director of Worldwide Cruise Terminals, on Thursday. He is at the World Ports Conference in Guangzhou.
Since 2006, China has seen an annual growth of over 40 percent in cruise passengers. But last year, the industry showed signs of cooling down.
According to the report, 4.23 million passengers went on cruises in China in the first 10 months of 2018, with a growth of only 2.2 percent year-on-year. And the number of cruise tours even dropped by 13.4 percent, with 790 tours in total.
While the industry has experienced a nationwide decline, there was an exception – the Guangdong-Hong Kong-Macao Greater Bay Area – where cruise numbers are up.
The region's major ports, including those of Guangzhou, Shenzhen and Hong Kong, saw a total of 2.5 million cruise passengers last year, up 13 percent year-on-year.
"I think that's because the travel restrictions on (South) Korea were put into place," Jeff Bent explained. "When people stopped going to (South) Korea, the cruise routes became less attractive, and the ticket prices dropped. That's what happened in north China. But in the south, the market kept growing as (South) Korea was not a major destination for cruise tourism."
"I'm optimistic on 2019," Raymond Lim Jiun Yan, senior vice president of the Planning and Port Management at Genting Cruise Lines, told CGTN. "We'll see improvement this year: New projects are coming out, and we'll have a new cruise ship coming to this region in 2021."
More good news is coming. A new cruise home port will be put into use this year at Nansha Port in Guangzhou, a step forward to implement the blueprint of the Greater Bay Area. It will be the largest of its kind in Guangdong Province.