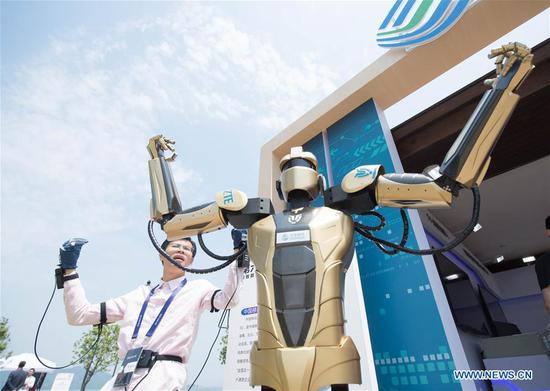 An exhibitor shows a synchronous simulation robot during the 6th China Robotop and Intelligent Economic Talents Summit in Yuyao City, east China's Zhejiang Province, May 9, 2019. (Xinhua/Weng Xinyang)
A total of 28 projects, with investment totaling more than 12 billion yuan (1.76 billion U.S. dollars), were signed Thursday at an ongoing robot summit in eastern China's Zhejiang Province.
The three-day event, the Sixth China Robotop and Intelligent Economic Talent Summit, was held in the city of Yuyao.
The 28 projects, which will mainly focus on robots, intelligent manufacturing, technology and innovation, are expected to promote the high-quality development of the robot and artificial intelligence industries.
Latest robots and core components from nearly 80 leading enterprises in robots and intelligent manufacturing sectors are on display at the summit.
Forums, focusing on diverse topics including academic research and application, enterprises and market, and capital and talent will be held during the summit.