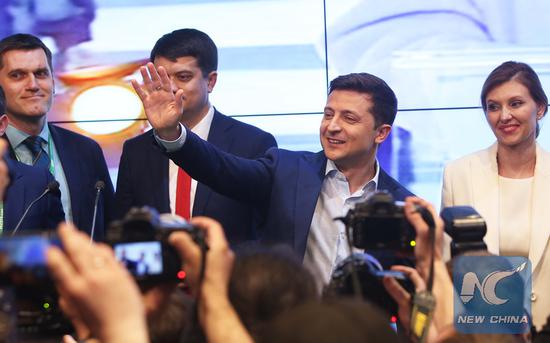 Ukraine's presidential candidate and actor Volodymyr Zelensky (2nd R) waves to supporters at his campaign headquarters in Kiev, Ukraine, April 21, 2019. (Xinhua/Sergey)
The national exit poll showed on Sunday that Ukrainian actor Volodymyr Zelensky won the country's presidential election by gaining 73.2 percent of the votes in the second round as of 6 p.m. local time (1500 GMT), the Ukrainian government-run Ukrinform news agency said.
A total of 25.3 percent of Ukrainians voted for incumbent President Petro Poroshenko, while 1.5 percent of the voters spoiled their ballot papers, the exit poll suggested.
The exit poll was conducted by the Ilko Kucheriv Democratic Initiatives Foundation among 13,000 voters. Its margin error was plus or minus 1.3 percentage points.
Voting in the second round of the presidential election in Ukraine kicked off at 8 a.m. local time (0500 GMT) and ended at 8:00 p.m. (1700 GMT).
The results of the second round are set to be announced by the Central Election Commission by May 1 and the new president is expected to take office no later than June 3. Enditem