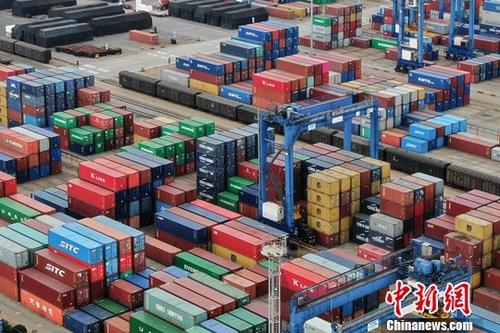 File photo.
China's foreign trade registered stable growth in the first quarter thanks to robust performance in March, customs data showed Friday.
China's foreign trade of goods climbed 3.7 percent year on year in the first quarter to 7.01 trillion yuan (1.04 trillion U.S. dollars), the General Administration of Customs (GAC) said.
Exports increased by 6.7 percent year on year to 3.77 trillion yuan in the first three months, while imports went up by 0.3 percent to 3.24 trillion yuan, the GAC said.
The stable growth was partly driven by rapid increase in trade volume in March, which jumped by 9.6 percent year on year to 2.46 trillion yuan, said Li Kuiwen, spokesperson for the GAC.
Exports surged by 21.3 percent in yuan terms last month, while imports dipped by 1.8 percent, GAC data showed.