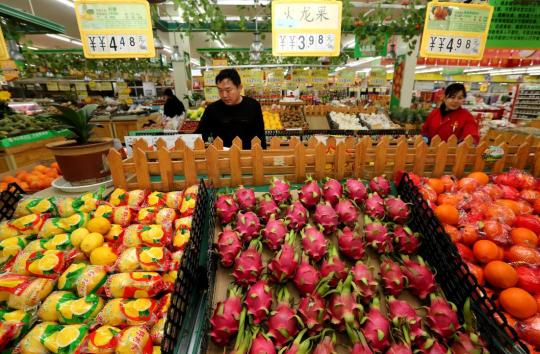 Shoppers select fruits at a supermarket in Zaozhuang, Shandong province, April 11, 2019. (Photo by Ji Zhe/Asianewsphoto)
China's consumer and factory-gate inflation picked up in March as government efforts to stabilize economic growth have begun to boost domestic demand, analysts said.
And as core inflation remains stable, it is unnecessary for policymakers to specifically respond to rising consumer inflation.
The consumer price index in March rose 2.3 percent from a year earlier, a five-month high, mainly due to rising food prices, the National Bureau of Statistics said on Thursday.
Vegetable prices rose 16.2 percent year-on-year in March due to colder weather, which affected output. Pork prices rose 5.1 percent, the first monthly rise after falling for 25 consecutive months, due in part to the spread of African swine fever, which has forced farmers to reduce herds.
Nonfood prices were up 1.8 percent year-on-year in March, largely unchanged from the previous month.
"In the short term, China may continue to face pressure of rising consumer inflation," said Tang Yao, an economist at Peking University's Guanghua School of Management. "But from a macroeconomic policymaking perspective, it is not necessary to respond because the rises are likely short-term and temporary."
Many analysts predict full-year consumer inflation may stand at around 2.5 percent, lower than the country's inflation target of about 3.0 percent announced earlier this year.
"We expect the CPI to rise to 2.5 percent in 2019 from 2.1 percent in 2018, with the figure in some months this year potentially rising to around 3.0 percent year-on-year," Nomura Securities said in a note.
"It will not change the easing bias of the People's Bank of China, as the forecast 2.5 percent inflation rate remains below the government's 2019 target and the acceleration of the CPI comes mainly from pork prices rather than a general rise in prices."
Unless inflationary pressures spread to other areas, the central bank will more likely look through the cyclical acceleration in pork prices and continue to support economic growth via its monetary policy easing bias through the rest of this year, Nomura said.
China's producer price index, meanwhile, rose 0.4 percent from a year earlier, up from 0.1 percent in February.
On a monthly basis, producer prices increased for the first time in five months, edging up 0.1 percent.
"Economic growth is gradually stabilizing, which jazzes up demand to bolster prices," said Xu Gao, chief economist at Everbright Securities Asset Management Co Ltd.
As the government plan to channel more funds into infrastructure construction and cut taxes and fees for the corporate sector gradually takes effect, the PPI may continue to rise in the first half of this year, said Guotai Junan Securities in a note.
But Tang of Peking University cautioned that the rising PPI may not in itself indicate that economic fundamentals have improved substantially, and more time is needed to monitor the state of the economy.