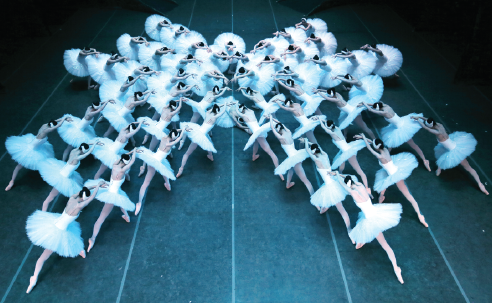 Shanghai Ballet's Swan Lake, featuring the world's largest ensemble of 48 performers dressed as swans, will be staged at New York's Lincoln Center in January 2020. (Photo provided to China Daily)
Shanghai Ballet is staging 12 shows to reflect four decades of accomplishments 
To mark its 40th anniversary this year, Shanghai Ballet is staging 12 productions to reflect the history and development of the company over the past four decades.
"We are a company that has grown alongside China's reform and opening-up," said Xin Lili, director of Shanghai Ballet. "We inherited the creativity from several generations of artists in China, and we have carried on their pioneering spirit, and hope to continuously add new repertoires to the 167 projects created in our first 40 years."
Xin said the company's 12 productions for the new season will feature diverse styles and subjects.
The company's inaugural production, The White-Haired Girl, will tour Beijing, Guangzhou in Guangdong province and Xi'an in Shaanxi province. One of the first Chinese ballet productions, the play was created by the Shanghai Dance Academy in 1965, inspired by the tale of a young woman, who after being persecuted by her landlord, lives in the wilderness for years and becomes known among villagers as the "wandering ghost".
The White-Haired Girl performance team formally changed its name to Shanghai Ballet in 1979 and has since staged more than 2,100 performances of the play.
"It is our most important repertoire, and one of the first theater productions to tell a story from China in the form of ballet," Xin said. "Each generation of our artists have performed it. Thanks to the efforts of many people, the production remains alive and popular."
Besides its classical productions, Shanghai Ballet has also created many new masterpieces over the decades, including Bright Red Star, which premiered in October.
"To me, the biggest challenge was telling a story from China through ballet, a Western dance art," said Zhao Ming, director and choreographer of the production. "Ballet has gone a long way in China since The White-Haired Girl, and we have to make new breakthroughs to create contemporary interpretations of revolutionary themes."
On March 15, Bright Red Star began a tour of more than 20 cities, such as Nanchang in Jiangxi province, Beijing, Hangzhou in Zhejiang province and Xiamen in Fujian province.