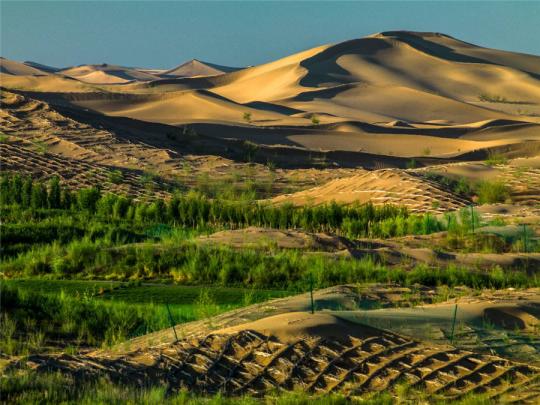 The use of sand barriers is helping transform hundreds of acres of northern China's Kubuqi Desert into green landscape. (Photo provided to chinadaily.com.cn)
Constant increase of China's forest cover demonstrates that through organized activities, human society can promote forest protection, reforestation and homeland greening.
A Chinese official made the remarks while attending events celebrating the International Day of Forests at the United Nations headquarters in New York on Thursday.
China's "Three-North Shelterbelt Program" (TNSP) was discussed by Zhang Wei, director general of the Three North Shelterbelt Program Construction Bureau of China's National Forestry and Grassland Administration.
In order to improve the ecology of northwest, north and northeast China (or the "Three-Norths"), the Chinese government launched TNSP in 1978.
The scope of the program includes 551 prefectures of 13 provinces, autonomous regions and municipalities in Northern China, covering an area of 4 million square kilometers.
The planned construction period ranges from 1978 to 2050 and is divided into eight phases in three stages.
The program was designed to reforest 35 million hectares and develop a large-scale shelter forest system to fundamentally improve the ecological environment of the program area and people's livelihood.
"After more than 40 years of effort, TNSP has obtained significant achievements," said Zhang.
The conserved reforestation of the program has accumulated to 30 million hectares. The forest cover in the TNSP area has increased from 5 percent in 1977 to 13 percent in 2017.
The program has rehabilitated 336,000 square kilometers of desertified land and recovered more than 10 million hectares of desertified grassland. The total area of desertified land in the TNSP area has decreased continuously, and the length of annual average sand storm days has reduced from 6.8 days to 2.4 days.
Some 447,000 square kilometers of soil and water eroded areas have been recovered.
Zhang said people's livelihoods in the area have been continuously improved, making positive contributions to poverty alleviation.
"The program attached importance to the establishment of economic forests, timber forests, fuel wood forests, fodder shrubs and pasture, and vigorously developed such featured industries as eco-tourism, effectively increasing local people's income.
Zhang said, after years of cultivation, "people's awareness of ecological conservation has improved remarkably, creating an environment of voluntarily protecting the ecology and respecting Nature."
"Through participation in the implementation of the program, local people have accumulated rich experience in planting trees and grass and in combating desertification, mastered various practical techniques, deepened understanding of Nature, especially the multi-functions of forests, and significantly increased awareness of protecting forests," he said, adding that 8,572 forest parks, 324 national wetland parks and 90 national desert parks have been established within the TNSP area.
"It's a very inspirational example that other countries can learn from," said David O'Connor, Permanent Observer from the International Union for Conservation of Nature to the UN.
"(China's) ability to implement the plan has been impressive," he said. "Few other countries can sustain that kind of effort over a long period of time."
In 2018, TNSP was awarded "Good Practice of UNSPF" recognition by the Department of Economic and Social Affairs of the United Nations, Zhang said, adding that despite the remarkable achievements, the eco-environment of the "Three-North" region is still fragile.
O'Connor told China Daily that restoring the forests may not be identical to keeping the forest in place to begin with because "the original forest is a very biodiverse environment with many species of trees, many species of plants and animals in symbiosis with the trees."
"When you restore it, you cannot necessarily reproduce that complexity and those symbiotic relationships," he said, adding that only science can help.
"In the future, we will carry out the ecological civilization concept, insist on a holistic approach to conserving our mountains, rivers, forests, farmlands, lakes, and grasslands, balance ecological conservation and economic development and exert ourselves to promote the high-quality development of the program," Zhang said.
Zhang said TNSP is willing to continue the extensive exchanges and cooperation with colleagues from around the world to jointly promote global greening and contribute to global sustainable development.