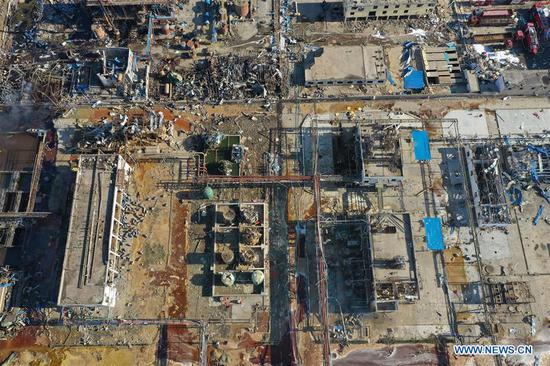 Aerial photo taken on March 22, 2019 shows the site of a factory explosion at a chemical industrial park in Yancheng, east China's Jiangsu Province. (Xinhua/Ji Chunpeng)
Chinese President Xi Jinping on Friday called for "all-out" effort to rescue the injured after a plant blast in east China's Jiangsu Province.
Xi said local authorities should try to save as many as they can and minimize casualties. Xi also urged authorities to take lessons from the blast to prevent accidents in the future.
The blast rippled through Tianjiayi Chemical Co., Lt. in Xiangshui County, Yancheng City on Thursday afternoon, killing at least 47 people and critically injuring 90.