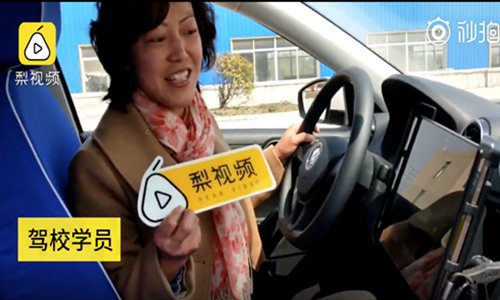 A driving trainee with a robotic coach (Screenshot photo/Pear Video)
Students at a driving school in Zhenjiang, East China's Jiangsu Province say newly installed robotic coaches have eliminated some of the stress they experienced when practicing with a human coach.
The robotic coach, which provides automatic voice navigation, gives learners gentle voice commands.
"I'm nervous when a real coach sits beside me. This robot is nicer. Even if I do something wrong, the robot will continue to encourage me, instead of blaming me," a student of the driving school told Pear Video.
"The robot can be set to a teaching mode or simulated test mode. It will tell you if you pass the test," said a coach at the driving school.
The robot will remind learners to turn on their left turn signal as the car approaches a left turn.
"If it is about 20 centimeters away from an obstacle, the car will automatically stop," said the coach.
The school doesn't plan to cut the number of human coaches.
Some netizens doubted a robot coach could be as effective as a real one. "No robot coach would help me step on the brakes if I were accidentally to drive into a ditch," one netizen commented.