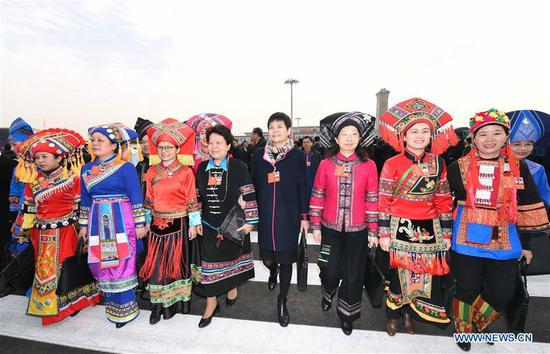 Deputies to the 13th National People's Congress (NPC) walk to the Great Hall of the People for the opening meeting of the first session of the 13th NPC in Beijing, capital of China, March 5, 2018. (Xinhua/Yang Zongyou)
The 56 ethnic groups in China, living together like brothers and sisters, are all part of the big family of the Chinese nation, a Chinese envoy said Wednesday at the ongoing UN Human Rights Council (UNHRC) session in Geneva.
"The people of all ethnic groups are tightly held together like pomegranate seeds, and together they are making arduous efforts for the great rejuvenation of the Chinese nation where they can all live a happy life," said Yu Jianhua, head of the Chinese Mission to the UN Office at Geneva, when elaborating on China's human rights propositions and expounding achievements of the human rights undertakings in Xinjiang Uygur Autonomous Region in northwestern China, during the UNHRC's 40th session.
Yu said that as unilateralism and protectionism are on the rise in today's world, coupled with the still outstanding problem of unbalanced, uncoordinated and unsustainable development, it's particularly important for countries to firmly practise multilateralism and to jointly build a community with a shared future for mankind.
To that end, Yu put forward China's propositions on advancing undertakings for human rights internationally. Firstly, mutual respect should by taken as a premise, by which all countries should respect their peoples' choice of development path for human rights.
Secondly, all countries should adhere to the principle of fairness and justice, abide by the purposes and principles of the UN Charter, respect the sovereignty and territorial integrity of each country, and oppose interference into other countries' internal affairs under the pretext of human rights.
Thirdly, all countries should aim for win-win results through cooperation; and lastly, all countries should champion a people-centered vision and promote human rights through development.
On the topic concerning China's Xinjiang Uygur Autonomous Region, the Chinese ambassador said that the stance adopted by some countries is biased and entirely based on misjudgment, which runs counter to facts.
He said that the Chinese government has adopted a series of anti-terrorism and de-extremization measures in Xinjiang, including the establishment of vocational training facilities, which aim to help the few people who have been influenced by extremism to get rid of their terrorist and extremist thoughts and reintegrate them into the society as soon as possible.
These measures, carried out in full accordance with the law, have greatly improved the security situation in Xinjiang and effectively safeguarded the human rights of the people of all ethnic groups and thus received sincere support from the people, Yu said.