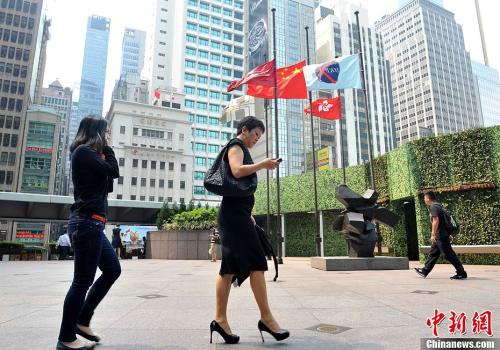 People pass by the plaza of Hong Kong Exchanges. (File photo/China News Service)
Special: Greater Bay Area
(ECNS) - Hong Kong's stock exchange operator has announced its strategy for the next three years, pledging to expand connect schemes with the Chinese mainland.
Hong Kong Exchanges and Clearing Ltd (HKEX) said it will provide international investors with the most comprehensive range of Chinese securities investments and support greater outbound investments by working with mainland regulators and exchanges.
The key tasks under the China Anchored strategy are to enhance stock and bond connect, launch A-share futures products, and support cross-border execution in the RMB FIC derivatives market. HKEX will also support improved access to the CNY market, offer an expanded commodities product suite, and extend its onshore commodities capabilities in the mainland.
The Globally Connected initiative in the plan means HKEX will further enhance the structure of the IPO regime, develop a listing and capital-raising hub for major global and Asia Pacific companies, and expand the international footprint and customer engagement.
The 3-year plan's Technology Empowered efforts means HKEX will focus on applying new technologies to modernize its core functions in order to enable greater efficiency in operations and deliver new services to the market.