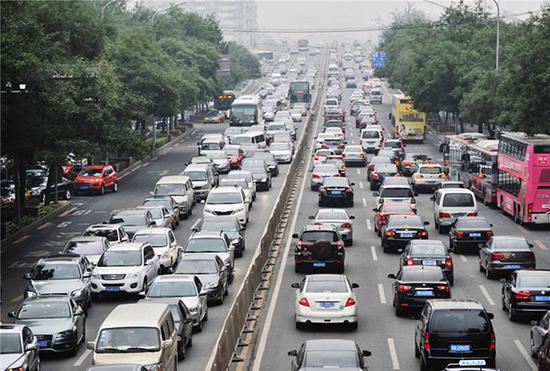 Sales of new passenger vehicles in China fell by 5.8 percent in 2018, the first slump since 1992 as falling demand was offset by growth in the second-hand car market, amid signs of growing maturity in China's auto sector.
Data published by the China Passenger Vehicle Association saw overall sales of new passenger cars fall to 22.35 million last year, compared to 23.72 million vehicles in 2017.
The decline comes after Beijing-based Capital University of Finance and Economics published a study saying Chinese consumer confidence in 2018 fell into pessimistic territory, compared to the previous year.
The university's consumer confidence index came in at 99.4 in the final quarter of last year, compared to 105.1 in 2017 Q4. Any score below 100 indicates pessimism among consumers.
While consumers may be holding back on spending slightly more than in previous years, there are many other factors at play in the auto sector, with second-hand vehicle sales, car-hailing apps and improved public transportation all combining to reduce demand for brand new cars.
Data for China's second-hand auto market covering the first 11 months of last year showed a sales increase of 12.84 percent, suggesting that the wider car market is maturing as consumers look for better value.
Luo Lei, the deputy secretary-general of the China Automobile Dealers Association, told Chinese media on Tuesday that he expected 2018 to show total second-hand car sales surpassing 14 million for the first time.
If that is the case, China would have sold more than 36 million new and second-hand vehicles last year – more than it did in 2017.
China's second-hand car market has grown in popularity in recent years, with e-commerce platforms like Uxin and Guazi driving new trends in the auto sector. The demand for second-hand car dealers in China has largely been bypassed by these platforms, which link buyers to individual sellers online.
According to a study by iResearch, China will see 29.6 million used cars sold by 2022, a sign of growing sophistication in the market. In the U.S., for every new car sold there are 2.4 used vehicles purchased.
In China, sales of new cars still account for more than two thirds of the overall market. However 2018's data suggests the gap between used and new vehicle sales is gradually narrowing.
As early as 2016, McKinsey pointed to changing trends in the Chinese auto sector, with the consultancy conducting a survey of consumers that found 60 percent of Chinese drivers no longer see their cars as status symbols.
The growth of mobile platforms has also transformed the way China gets around, with McKinsey pointing to the growth of car-sharing in recent years. Greater knowledge of the auto industry, especially through online forums (used by 58 percent of survey respondents) has also increased confidence in the used car sector.
McKinsey's survey found consumers considered budget and value the second most important factor in purchasing a car, with 47 percent of respondents considering buying a second-hand vehicle.
When the same survey was conducted in 2011, only 18 percent of people said they would think about buying a used car.