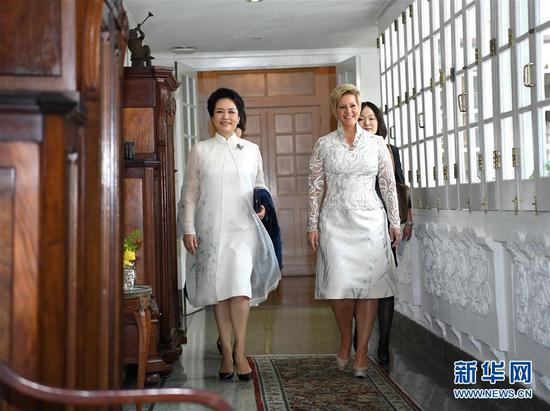 Chinese first lady Peng Liyuan (L) and Panama's first lady Lorena Castillo attend an HIV/AIDS prevention and treatment campaign in Panama City, Panama, December 3, 2018. (Photo/Xinhua)
Special: Xi visits four countries, attends G20 Summit
Peng Liyuan, wife of Chinese President Xi Jinping, on Monday called for r cooperation between her country and Panama on AIDS prevention as well as women and children affairs.
Peng, who was in Panama City accompanying Xi for a state visit to the Central American country, made the appeal in a meeting with Panamanian First Lady Lorena Castillo Garcia.
The Chinese government attaches great importance to AIDS prevention and treatment and to care of AIDS patients, and has made tremendous efforts and important achievements in those aspects, said Peng, who is also a World Health Organization goodwill ambassador for tuberculosis and HIV/AIDS.
The Chinese side, she added, highly appreciates the enormous work Panama has done in those fields.
Meanwhile, Peng, also a UNESCO special envoy for the advancement of girls' and women's education, said China always pays high attention to women and children affairs, and strives to improve the health and education of women and children.
She suggested that the two sides join hands to make greater contribution to elevating the well-being of women and children not only in the two countries but also across the whole world.
Castillo, who is a special ambassador for UNAIDS in Latin America, spoke highly of China's achievements in AIDS prevention and treatment, as well as in the protection of women's and children's rights.
The Panamanian first lady expressed her willingness to work with the Chinese side to push for more progress in those areas.
After the meeting, Peng and Castillo posed for photos holding colorful paper butterflies -- which symbolize the Zero Discrimination campaign -- to show their solid support for the global cause against AIDS.
Peng gave a thumbs-up to Castillo's active participation in AIDS prevention, stressing that China and Panama share common aspirations in eliminating HIV/AIDS.
She expressed her hope that the two countries will inject fresh vigor into bilateral cooperation and make unremitting efforts to help realize the UNAIDS-proposed goal of ending the AIDS epidemic by 2030. Enditem