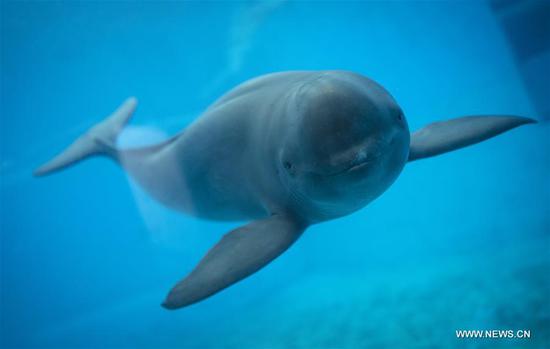 A Yangtze finless porpoise swims at the Yangtze River Dolphin aquarium in the Institute of Hydrobiology of the Chinese Academy of Sciences in Wuhan, capital of Central China's Hubei province, on Nov 10, 2018. [Photo/Xinhua]
Special: Yangtze River Economy
Efforts to save the critically endangered Yangtze finless porpoise in Anhui province have been undermined by unapproved changes to protected habitats, a high-level environmental inspection found.
A safe zone for the mammal-known in China as the water panda because of its rarity-was first set up in Anqing, Anhui, in 2007. It covered 806 square kilometers, including the entire 243 km of the main stream of the Yangtze River that runs through the city.
Yet between November 2015 and June 2017-and without approval from provincial authorities-Anqing authorities adjusted the zone's size and downgraded the protection level in some areas to allow activities that threaten the porpoise, according to a statement from the inspection team.
One document from 2015, for example, reduced the protected area to 552 sq km and left it covering only 152 km of the Yangtze's main stream. A 91-km Yangtze section excluded from the protected area threatened the survival of about 50 Yangtze finless porpoises, the statement said.
Inspectors found that the protection levels of two foraging areas were downgraded in 2016, and a year later the areas had been removed from the zone altogether. More than 10 wharves, including one handling hazardous chemicals, were opened along the 2-km section of the Yangtze that separates the foraging areas.
According to a guideline on natural reserves published by the State Council in 2010, such adjustments should have been approved by the provincial government, and should also have been recorded with the top environmental watchdog.
There were also environmental violations in the remaining protected areas, according to the statement. Three anchorage grounds, for example, were allowed in waters frequented by the porpoise, resulting in a direct threat to the animals' survival, while four of the 18 sewage outlets inside the protected area were built without approval.
The statement blamed Anhui provincial agricultural and environmental authorities for their failure in supervision. Instead of protecting the area, the Anqing city government adjusted the area to allow for the construction of a new port, it said.
The inspection team vowed to further investigate the case and said those who breach their duties will be subject to punishment.
Ma Yong, deputy secretary-general of China Biodiversity Conservation and Green Development Foundation, said some local authorities have yet to attach adequate importance to biodiversity protection as they have with pollution control and supervision.
He said any officials held accountable for the incident should be severely punished to prevent similar cases.
The inspection team, which visited the protected zone in Anqing from Nov 4 to Thursday last week, was headed by minister-level official Wu Xinxiong, the former head of China's National Energy Administration who is now an official with the National Committee of the Chinese People's Political Consultative Conference. Its deputy head was Zhai Qing, vice-minister of ecology and environment.