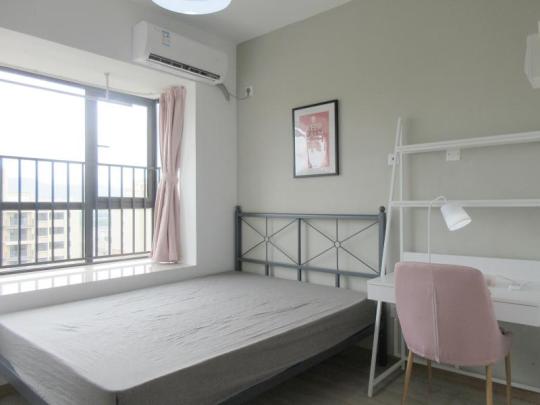 An apartment rented through online long-term rental apartment operator Ziroom. (Photo provided to China Daily)
A national decoration industry association is drafting a standard for rental apartments to improve indoor air quality to protect people's health.
The move came after a tenant in Hangzhou, Zhejiang province, died of leukemia in July, about three months after moving into a new apartment rented through the app Ziroom.
The incident flagged concerns about poor air quality in newly refurbished apartments listed by Ziroom, which handles at least 400,000 rooms and serves more than 1 million tenants in China.
Drafted by the China Building Decoration Association, the regulations are expected to be released early next year, said Yang Chunyu, secretary-general of the Residential Leasing Industry Branch of the association.
Yang said the technical regulations will lay down a unified standard for long-term and short-term rental apartments as well as shared office space. It will specify requirements for carcinogenic chemicals released by paints and varnishes, including formaldehyde, he said.
Yang said the Ziroom incident has had a negative influence not only on the rental business but also on decoration companies and has restricted their development.
"Air pollution is a tough problem for the entire decoration industry. ... There is an urgent need to formulate industry standards," he said.
At present, air testing in the industry goes by national standards. Levels of indoor formaldehyde should not exceed 0.1 mg per cubic meter, but a few companies rent out newly renovated apartments before they are qualified, he said.
Sun Chenxiao, who entrusted Ziroom with managing his apartments last year, completed a makeover for his apartment in less than 20 days and a tenant moved in almost immediately.
"With such a high turnover rate, the formaldehyde level in the property could be excessive," he said.
Zhang Dawei, chief analyst at Centaline Property Agency, said Ziroom aggregates scattered rental stock owned by individual landlords and then reconfigures and remodels them before renting out the refurbished homes.
Because of the company's upfront capital investment in the fitting-out process, the cost and time needed for maintenance upgrades will greatly affect the company's profitability.
Ziroom has said that beginning on Sept 24, newly refurbished apartments will be left vacant for at least 30 days and pass indoor air testing before being listed.