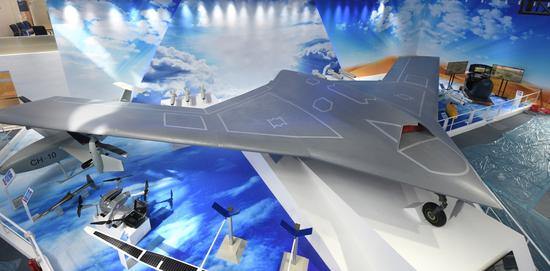 Stealth drone CH-7 on display. (Photo provided to chinadaily.com.cn)
China is well-known as a rising supplier of advanced military drones in the international market. Now, the nation is offering a new attraction that could be irresistible to many buyers — the only stealth drone available in the market. And it can lift heavier loads than some manned fighter jets.
The China Academy of Aerospace Aerodynamics, the country's largest military drone exporter by the number of products sold overseas, will display its latest combat model — the CH-7 high-altitude, long-endurance stealth drone at the 12th China International Aviation and Aerospace Exhibition, sources from the academy told China Daily in an exclusive interview.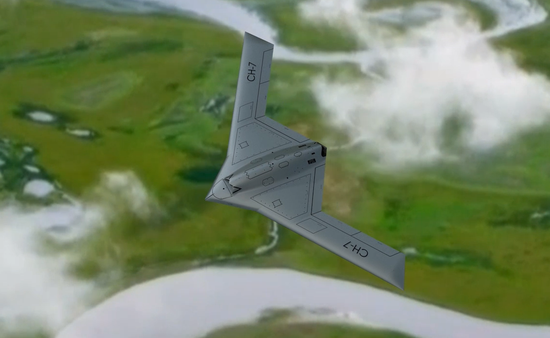 Several countries, including the United States, Russia and France, are developing stealth combat drones; for instance, the RQ-170 and X-47B from the US, and France's Dassault nEUROn. However, they are either not available in the international market or are simply for experimental purposes rather than mass production. Therefore, the CH-7 will be the sole option for purchasers wishing to field stealth combat drones, sources said.
According to the academy, the CH-7 features a high operational altitude, fast speed, long flight duration and outstanding survivability, and is intended for missions such as strategic reconnaissance, electronic surveillance and high-value target elimination.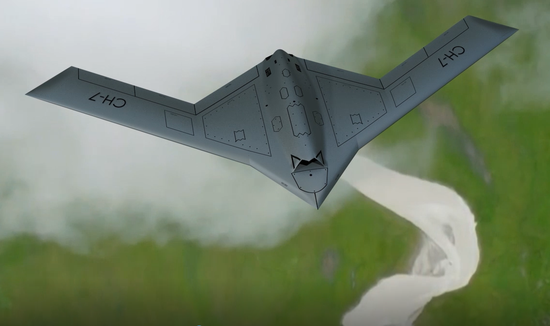 Information from the academy shows that the cutting-edge combat drone is capable of detecting stealth fighter jets such as the United States' F-22 Raptor and early warning aircraft, and then providing guidance for manned combat planes to hit these targets.
With a flying wing design, CH-7 is 10 meters in length and has a 22-m wingspan. Its maximum takeoff weight is 13 metric tons, which means the drone is more powerful than some manned combat aircraft such as China's JF-17 Thunder. By comparison, its predecessor, the CH-5, has a maximum takeoff weight of 3.3 tons and is known as the "flying arsenal" because it can carry as many as 24 missiles in a single mission.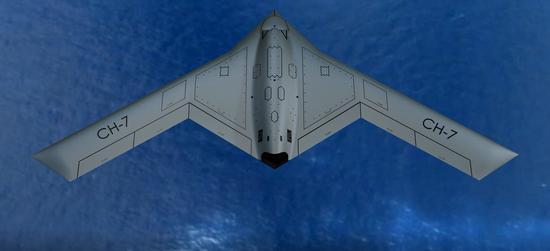 Powered by a single jet engine, the CH-7 has a maximum speed of about 920 kilometers per hour, roughly the cruising speed of a large jetliner. Its flight ceiling is 13 km, high enough to evade almost all types of short- and medium-range air-defense missiles, and its operational radius is around 2,000 km, according to the academy.
The CH series of drones, designed and built by the academy, have been sold to militaries in more than 10 countries, making them the largest armed drone family exported by China, the academy's statistics show.
The China International Aviation and Aerospace Exhibition, also known as Zhuhai Airshow, is the one of the largest arms exhibitions in the world. This year's event will open on Tuesday in the coastal city of Zhuhai, Guangdong province.