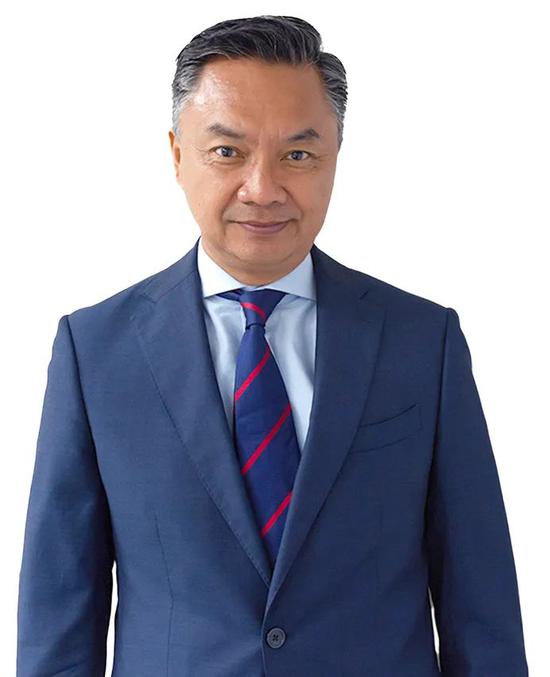 By Xu Huangguan and Wang Zonghan from CNS
Dr. Dino Patti Djalal, the founder and chairman of Foreign Policy Community of Indonesia (FPCI), former deputy foreign minister of Indonesia,was honored with the first Orchid Award "Friendship Envoy Award" initiated by CICG in September, 2023. Mr. Dino made contributions to the development of friendly relations of ASEAN-China and Indonesia-China for a long time. Recently, Dino Patti Djalal had an exclusive interview with the "W.E. Talk" of China News Service, focusing on his experiences and views on the ASEAN-China relation.
Here are excerpts from the interview:
CNS: Over the years, You have spared no effort in contributing to the development of friendly ASEAN-China and Indonesia-China relations. Why do you devote yourself to the promotion of those friendly relations? What makes you get involved with China?
Dino Patti Djalal: In my view, China has become the most consequential country in the region, if not the world. This means the policies of China, more than any other country, will have a significant impact on the well-being of other countries. This is in great contrast to fifty years ago, when China's economic development did not have much bearing on countries in Asia, which were much more exposed to the US, Japan, Europe, and others. It is therefore very important for Indonesia as well as for ASEAN to have the right China policy. To get China right and not to get China wrong. This also means we in Indonesia and other ASEAN countries have to recalibrate our mindset as well as our policies towards China. We are now dealing with the China of the 21st century rather than the China of the 20th century, which had difficult relations with many countries in Southeast Asia including Indonesia. For me, therefore, understanding and engaging China constructively is both a personal, as well as professional imperative. (For example, while I studied in an Islamic school, my three children are now studying at an Anglo-Chinese school.)
CNS: FPCI has taken notable initiatives in promoting friendly relations with China under your leadership, including Global Town Hall with the theme of "Rebuilding from the COVID-19 World", the annual ASEAN-China Survey, the Youth Voice for ASEAN-China Cooperation and FPCI China Forum, etc. In these endeavors, what are some of the moments that have been unforgettable for you?
Dino Patti Djalal: FPCI is the largest grassroots foreign policy group in the Asia Pacific. Our DNA is all about civil society connections and promoting people-to-people relationships. The first reason why FPCI has been so active, perhaps more so than any other peer organizations, in launching such initiatives as the Global Town Hall, ASEAN-China Survey, Write to China, China Forum, China Policy Group, Youth Voice for ASEAN-China Cooperation, is that I believe there can be no strategic and political trust between nations unless it is based on a solid people-to-people relations anchored on mutual respect and trust. The second reason is that when you have solid people-to-people relations, the relationship is durable and can withstand whatever trials and tribulations may come in the way of Indonesia-China relations and ASEAN-China relations. After all, there is no such thing as trust that is built overnight. Trust and respect are built over time and through repeated interactions that kindle mutual appreciation. China's assistance to Indonesia during the Tsunami of 2004, during the Global Financial Crisis 2008, and during the COVID-19 pandemic, were examples of how, over time, consistent acts of cooperation and solidarity lead to stronger partnerships.
CNS: You are paying attention to China's development and promoting cultural exchanges between the two countries. What changes has China made that impressed you in recent years? Can you talk about your "view of China"?
Dino Patti Djalal: You have to understand that for almost two decades, Indonesia froze diplomatic relations with China. So I came from a diplomatic and political environment in Indonesia which was closed against China. That attitude is no longer there. China has evolved in recent decades to such an extent that Indonesia's future, and also the future of ASEAN countries, are inextricably tied to China. If China is successful, it will benefit Southeast Asia; however if China falls into crisis, we will also be adversely affected. I think what impressed me the most about China are two things.
One is the speed at which China develops. China builds infrastructure and networks faster than any other country in the world, and the evidence is so overwhelming I don't need to cite any examples. Secondly, China's way of projecting itself to the world. As I have said, in some of my speeches on China: China does not want to be America, China does not want to be Europe, or anything else. China just wants to be China. China can do this because of its historical legacy, because of its development achievements, political confidence and national resilience. Some countries may see China's development as a 'threat', but for Indonesians, China's success is inspiring because we see it as the hard-earned success of a fellow developing country. We like it when developing countries succeed, because we all came from the same place; defeated, conquered, exploited, oppressed.