(ECNS) -- Michael Yon, who calls himself "America's most experienced combat correspondent," recently shared three images on X, formerly known as Twitter, depicting an empty coffee shop and deserted streets in Shanghai's financial center, Lujiazui.
Yon said the photos were taken by his friend who was visiting Shanghai. "China is showing the most signs of an economy in trouble. Deep trouble. Shanghai is a ghost town compared to what it was," he added.
The tweet sparked debate on X, attracting 1.5 million views and over 880 replies so far, with numerous netizens refuting the false claim.
A netizen named Chaniece replied with a video on the Bund in Shanghai, which showed that the streets were bustling with many people coming and going."Reporting from 'Ghost town', Shanghai. Tuesday, September 5th, around 7:47 PM," she said.
Another user also used on-site photos to refute the statements. They show that Shanghai is very prosperous."This was 2 weeks ago when I went with my kids. Don't know what you're talking about. I wish it was as empty as he said. Maybe I could've got a parking space aroundPearl Tower or short lines for rides at Disneyland,"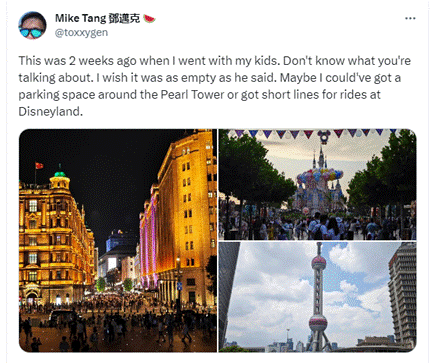 More than one netizen said the photos were taken early morning hours before the cafe opened.
Shangguanwenjie, a verified Twitter account which indicates he is an author and an American in China, tweeted "No baristas present in this pic. This was taken when the shop wasn't open."
However, despite numerous users in the comments section pointing out the absurdity of his statement, he not only didn't delete it but also pinned the post to the top.
"Shameless smearer! After so many netizens pointed out the absurdity, he still pinned the tweet to attract eyeballs and view," a netizen said.
Global Times reporters who just visited the exact streets and storessaw completely different pictures, with the streets packed with cars and crowds of people.
In the second quarter of 2023, Shanghai's rail transit system recorded an average daily passenger flow of 11.62 million on weekdays. Notably, during the morning peak hours from 8 a.m. to 10 a.m., Lujiazui station experienced the highest volume of outbound passenger traffic, according to The Paper's report.
In the first half of this year, Shanghai accomplished a gross regional product of 213.9 billion yuan (equivalent to approximately $29.53 billion), marking a 9.7 percent year-on-year increase. This places Shanghai at the top in terms of total economic output among all Chinese cities, as reported by the Shanghai Municipal Statistics Bureau.