(ECNS) -- The 19th Asian Games to be held in Hangzhou, Zhejiang Province has taken a resolute stand in its commitment to green and sustainable practices in terms of venue construction, energy supply and event operations, among others.
As the Games Village welcomed its first occupants on Saturday, the backdrop of lush greenery served as a poignant reminder of the event's unwavering environmental consciousness.
Under the Game's green ethos, village accommodation incorporates straw-based hangers and eco-friendly toiletry kits.
It aims to reduce per capita kitchen waste generation by more than 20 percent compared to similar-sized events and achieves a 70 percent recyclable and renewable materials ratio in licensed goods and venue decorations.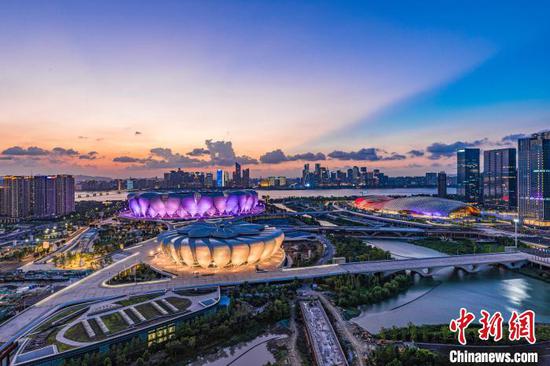 A venue of the
19th Asian Games is illuminated by green power
. (Photo: China News Service)
The State Grid Zhejiang Electric Power Company unveiled a report on Thursday championing green power to support Hangzhou Asian Games' sustainable development initiatives, which include the supply of green electricity to competition venues, the establishment of the nation's first 220kV carbon-neutral certified substation, and the deployment of zero-carbon engineers.
In an innovative move, the Hangzhou Asian Games introduced green energy transactions, ensuring that all 56 competition venues have been powered by green electricity since March.
Green electricity is sourced from photovoltaic power in the Qaidam Basin, Jiayuguan City, and the Loess Plateau in northwestern China, as well as wind energy from Hami, Xinjiang Uygur Autonomous Region.
"Green electricity refers to production processes with minimal to zero carbon dioxide emissions, thus exhibiting a significantly lower environmental impact when compared to conventional fossil fuel power generation," explained by Xia Lin, Head of Marketing at the Hangzhou Power Supply Company of the State Grid Corporation.
"The green power utilized during the Games is transmitted via ultra-high-voltage grids that span cities along the ancient Silk Road in China," Xia added.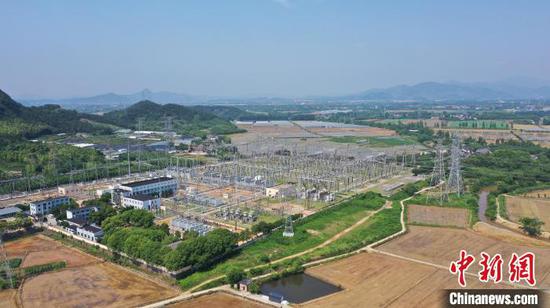 The first ultra-high voltage substation in Zhejiang is under expansion.(Photo provided to China News Service)
In June, the Hangzhou Asian Games and Asian Para Games signed green power supply agreements, amounting for a cumulative electricity volume of 621 million kWh, equivalent to saving 76,000 tons of standard coal.
The Hangzhou Olympic Sports Centre Squash Court, characterized by its glass walls and illuminating lights, was formerly a 4D exhibition hall.
The venue has maximized the use of existing facilities and equipment while prioritizing synthetic recyclable materials over natural resources like marble and wood. Smart waste sorting systems further enhance recyclable material utilization.
Li Shenfei, deputy director of the Facilities Maintenance Department of the Hangzhou Asian Games Organizing Committee, highlights the Games' preference for green construction materials, eco-friendly handling of construction waste, waste source reduction, andresource recycling.
According to Li, the utilization of Building Information Modeling (BIM) technology guides design and construction processes, enabling material-saving strategies within the building's structural system, and thereby conserving construction materials and energy.
In an unwavering quest to make the Hangzhou Asian Games the world's first large-scale "zero-waste" event, Zhejiang Province is fully committed.
In February, the "Zero-Waste Asian Games Improvement Action Plan" was released, outlining initiatives like promoting green accommodation, advocating for frugal dining, implementing paperless event management, endorsing renewable materials, and strengthening resource recycling.
The plan aims to achieve a minimum 50 percent material recycling rate during the Games.
Ma Liyang, head of the Hangzhou Asian Games' Environment Protection Department and director of the Hangzhou Municipal Ecology and Environment Bureau, notes the Games' long-term planning,which integrates event preparation with urban development.
Platforms for carbon neutrality and pollution reduction have been developed to extend the comprehensive carbon-neutral practices of the Hangzhou Asian Games to the whole city, said Ma.